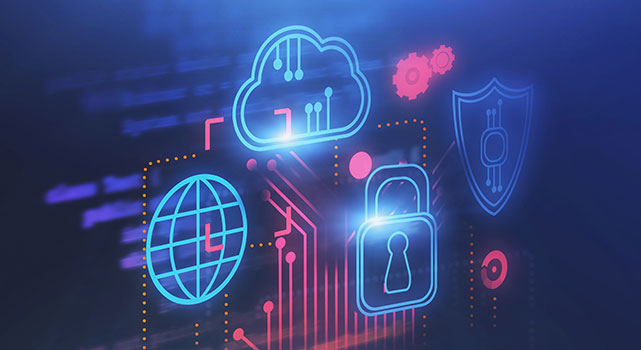 ---
With the upsurge in digital transformation projects and IoT applications, it has become increasingly difficult for IT teams to protect business assets and processes. But as organizations continue to deal with a shortage of talent, too many tools, and a foundation of manual processes, the burden to make security improvements ultimately lies on the shoulders of the CISO. ESG believes that security efficacy, operational efficiency, and business enablement are three key areas security executives should focus on to become more strategic in the face of evolving threats.
Three is the magic number
Based upon discussions ESG conducted with CISOs over the past decade, the CISO Triad identifies the top three priorities modern C-level executives face:
Security efficacy. Besides monitoring and communicating cyber risks and working to implement technical controls and countermeasures for threat prevention, CISOs are also responsible for putting together the right personnel, skills, and processes to avoid business disruption or costly data breaches.
Operational efficiency. Although security operations often work within their own bubble, CISOs need to be responsible for eliminating process bottlenecks and ensuring they can operate at peak performance.
Business enablement. In many cases, businesses connect their IT systems with third parties to bolster revenue or productivity. CISOs must understand all business idiosyncrasies and monitor complex business processes to identify and mitigate risk.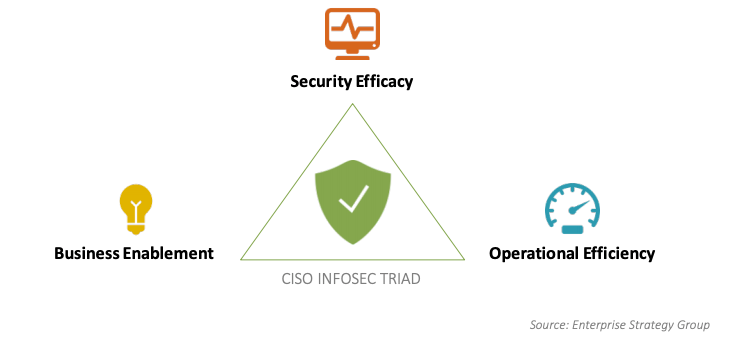 Cybersecurity challenges
For most CISOs, job responsibilities are clear, but executing in all three areas can be extremely difficult due to a host of common cybersecurity challenges. All these issues impact a CISO's ability to execute the responsibilities associated with the CISO Triad.
"Trend Micro Research, comprised of hundreds of threat experts situated across 15 global research centers, works closely with industry and government partners to stop cybercriminals."
 
Gain improvement through technology
Security efficacy suffers when threat detection, prevention, and response tasks span a multitude of point tools. Operational efficiency is impacted by too many manual processes and not enough staff. Finally, business enablement is difficult when executives lack cybersecurity knowledge or disregard cyber risk mitigation as part of business initiative projects.
ESG highlights that CISOs may find Trend Micro a suitable partner because they provide:
Endpoint-to-cloud coverage
Trend Micro has created an integration architecture, enabling endpoints, networks, virtual servers, and cloud and container-based workloads to work together for enhanced visibility and coordinated threat response. Trend Micro also provides several types of hosted services to simplify security operations by removing infrastructure and its associated overhead.
Extensive threat research and cloud-based analytics
Trend Micro Research, comprised of hundreds of threat experts situated across 15 global research centers, works closely with industry and government partners (including Interpol) to stop cybercriminals. The Trend Micro™ Smart Protection Network™ leverages information from over 250 million sensors—and uses big data analytics and artificial intelligence to detect threats "in the wild,"—constantly updates signatures, rules, and machine learning algorithms to help improve security efficacy and decrease the attack surface.
Strong support and services
Trend Micro maximizes protection by providing field engineers to help customers with product configurations and tips. For customers needing more help, Trend Micro can enable managed security service provider (MSSP) partners to provide key managed security services to organizations, including detection and response across email, network, endpoint, server and cloud workloads (Trend Micro Vision One™) and Trend Micro™ Managed XDR, to help address the skills gap and enable CISOs to easily create a portfolio of security capabilities.
Get more expert advice and learn how Trend Micro can help CISOs enhance security efficacy, operational efficiency, and business enablement in Finding Freedom Through Effective Cybersecurity: Strategic Guidance for CISOs from ESG.
Authors