Inside the Halls of a Cybercrime Business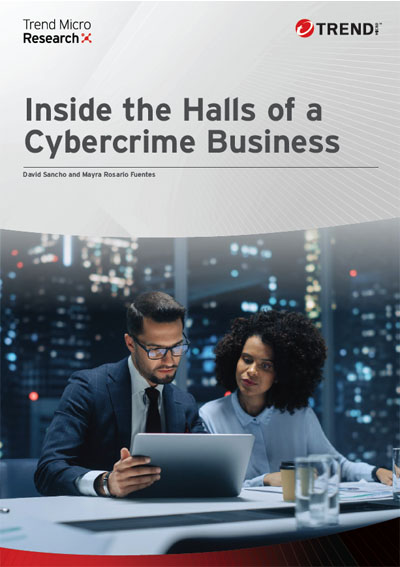 Download Inside the Halls of a Cybercrime Business
Size Matters: Unraveling the Structure of Modern Cybercrime Organizations
David Sancho and Mayra Rosario Fuentes
We explore three differently sized criminal groups to determine how they compare to similarly sized legitimate businesses in terms of how they are organized. We also discuss the advantages of knowing the size of a target criminal organization for cybercrime investigators.
The cyberthreat landscape in the last two decades has distinctly evolved: From an era of cyberattacks that were propelled mainly by offensive research with destructive payloads, the cybercrime space has become fertile ground for malicious actors who have organized themselves into groups to collectively pursue financial gain.
Staking a decisive claim on a vastly lucrative marketplace has motivated a new generation of cybercriminals to adapt and organize themselves in ways that bear a striking resemblance to legitimate corporations. Our research reveals that as the membership and revenues of cybercrime groups grow, layers of hierarchy are created in the process, thus making their organizational structure more complex.
Our research paper titled "Inside the Halls of a Cybercrime Business" takes an incisive look at small, medium, and large criminal groups based on cases from law enforcement arrests and insider information. We also compare each of these to conventional businesses that approximate their respective sizes to gain valuable insights about these criminal organizations.
HIDE
Like it? Add this infographic to your site:
1. Click on the box below. 2. Press Ctrl+A to select all. 3. Press Ctrl+C to copy. 4. Paste the code into your page (Ctrl+V).
Image will appear the same size as you see above.