Security by Design: DevOps in the Era of the GDPR [Infographic]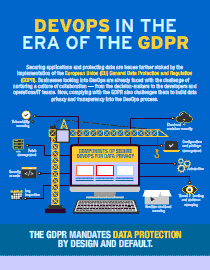 View Infographic: Security by Design: DevOps in the Era of the GDPR
Enterprises are increasingly adopting DevOps. In fact, 50 percent of surveyed organizations in 2017 were already implementing and expanding DevOps-related initiatives.
What's driving this transformational change is the need for speed: innovating with the process to continually come up with scalable and quality products and services. DevOps helps identify and unblock bottlenecks through shared responsibility, increased collaboration, and automation.



[RELATED: What is driving organizations to adopt DevOps?]
But with the European Union (EU) General Data Protection Regulation (GDPR) already in place, organizations need to act more proactively. A recent research, for instance, found that over 22,000 container orchestration dashboards and application programming interfaces (APIs) used to run cloud workloads were exposed, unsecure, or misconfigured. In 2017, 15 percent of surveyed organizations experienced a data breach. In the same year, tested web applications each had at least one vulnerability.
[Security by Design: Safeguarding Virtual Machines and Containers]
The repercussions can be daunting. Infringing the GDPR can, for example, cost businesses as much as €20 million or 4 percent of the company's annual turnover, whichever is higher. Enterprises also risk disruption in their operations and customer service. In fact, revenue losses from downtime in front-end-facing, web application-related services were estimated at US$731.6 million in 2017.
[READ: Securing Data Through GDPR's Privacy by Design]
While DevOps provides the benefits of agility and adaptability, incorporating security can be a challenge. Many enterprises, however, see it as an opportunity. More than 60 percent of organizations are projected to invest in data security solutions this year, while 59 percent of surveyed IT teams adopting DevOps are already automating their security owing to the GDPR's implementation.
Where do enterprises stand in today's threat landscape? What does DevOps bring to the table? How can DevOps — complemented with multilayered security solutions — align with the GDPR's mandate of data protection by design and default? Learn more in our animated infographic, "Security by Design: DevOps in the Era of the GDPR."
Trend Micro Solutions
Trend Micro's Hybrid Cloud Security solution automates security within your organization's DevOps processes and delivers multiple XGen™ threat defense techniques for protecting runtime physical, virtual, and cloud workloads. It also adds protection for containers via Deep Security and Deep Security Smart Check, including the scanning of container images during predeployment and at runtime. These solutions enable organizations to focus on security and compliance while still moving in the agile and adaptable world of DevOps. They also reduce the number of security tools needed with multiple security capabilities and a single dashboard to give you full visibility into leading environments like Amazon Web Services, Docker, Microsoft Azure, and VMware.
HIDE

Like it? Add this infographic to your site:
1. Click on the box below. 2. Press Ctrl+A to select all. 3. Press Ctrl+C to copy. 4. Paste the code into your page (Ctrl+V).
Image will appear the same size as you see above.