Spam Campaign Delivers Malware via .WIZ, Targets Banks
By Marshall Chen, Loseway Lu, Rubio Wu

Trend Micro researchers recently discovered a new spam campaign being distributed with a downloader under the guise of a .WIZ (detected by Trend Micro as W2KM_DLOADER.WIZ) and a .PDF file (PDF_MDROP.E), which then drops a backdoor (BKDR_COBEACON.QNA) payload. This spam campaign has been noted to target financial institutions.
Trend Micro has observed this spam campaign sending email to several email addresses associated with banks. WIZ is short for Wizard files used to guide users through steps on how to perform intricate or repetitive document types or tasks in Microsoft programs. Threat actors may have chosen the banking industry as its target because of its use of Wizards for processing documents such as bank and billing statements, and guiding their customers on filing income tax returns. Threat actors may have abused this to easily trick bank customers into accessing malicious .WIZ files via spam emails.
This malspam campaign is related to the recently discovered Marap, a downloader with modular features that allow cybercriminals to download other modules and payloads on affected machines. As observed by Trend Micro researchers, both of these malware campaigns share the same X-Originating-IP. However, instead of an .IQY file as its attachment of choice, the new spam campaign distributes .WIZ and .PDF files via a spam campaign that we've seen hit users in India, Taiwan, and Italy, among other nations.
Trend Micro also observed and closely monitored the .IQY-distributing spam campaign around the time Marap was first reported. On August 28, 2018, we saw another malware campaign carrying .WIZ, and .PDF files.
[READ: Spam Campaign Abusing SettingContent-ms Found Dropping Same FlawedAmmyy RAT Distributed by Necurs]

Infection Chain, Behaviors
This malware campaign has two file attachments with the following infection chains:
Attachments with .WIZ Files
Threat actors send victims a spam email with a .WIZ file attachment. In this example, the threat actors used a fake invoice to lure potential victims into accessing the .WIZ file.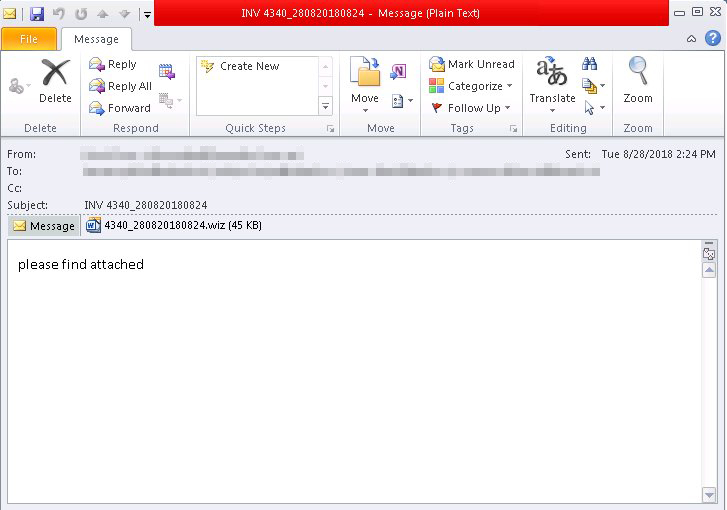 Figure 1. A screen capture of a malspam campaign with a .WIZ file attachment
Once recipients open the .WIZ file, a malicious macro inside the .WIZ attachment downloads a portable executable payload (BKDR_COBEACON) from a malicious website.
Attachments with .PDF Files
A malicious .PDF file is sent via the spam campaign. In this example, potential victims receive phony flight booking information.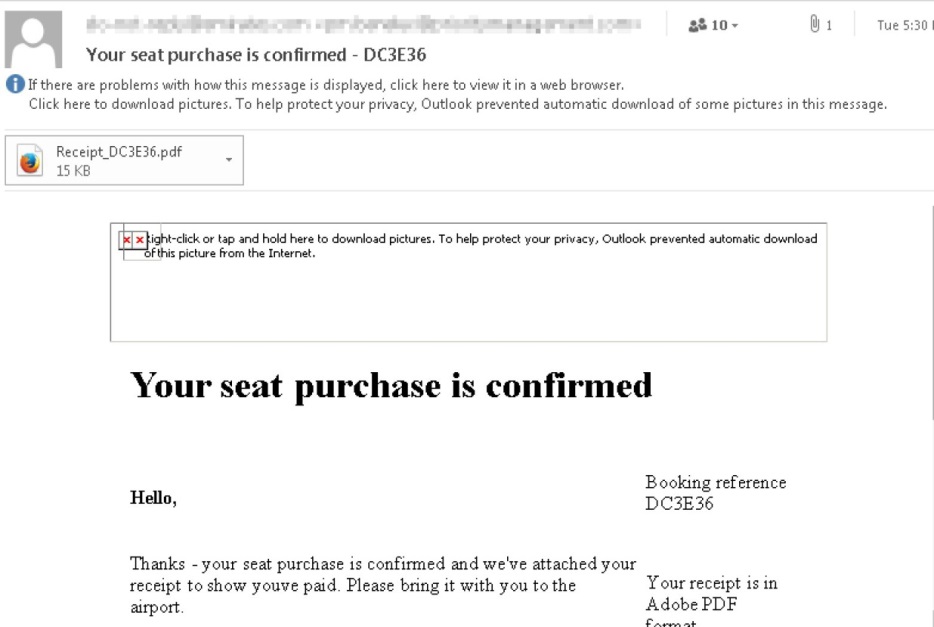 Figure 2. A screen capture of a fake booking confirmation email with a .PDF attachment.
Once the recipient opens the .PDF file, the JavaScript inside opens an embedded .PUB file (P2KM_DLOADR.YSU).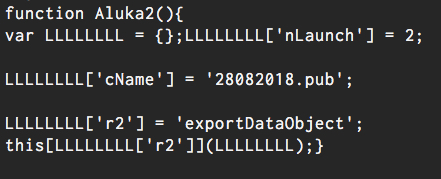 Figure 3. JavaScript inside the malicious .PDF file that opens an embedded .PUB file.
The .PUB file hosts malicious macros that will then download a portable executable file from a malicious website.
After analyzing both infection chains, Trend Micro researchers discovered that both the .WIZ and .PUB spam email attachments had the same malicious macro.
The backdoor can execute several commands such as executing PowerShell and file system commands, code injection, uploading and downloading files, and using and purging Kerberos tickets, among others.
The results of the commands below are sent via DNS back to the C&C server:
cmd.exe /C net view /all – finds all the computers that are visible on the network.
cmd /C arp – displays current ARP entries by interrogating the protocol data.
cmd /C tasklist /V –  displays currently running processes on the computer.
The backdoor can also steal a user's machine information such as computer name, IP address, OS system, and username, and malware process ID, to name a few.
Trend Micro Solutions
For protection against spam and threats, enterprises can take advantage of Trend Micro™ endpoint solutions such as Trend Micro Smart Protection Suites and Worry-Free™ Business Security. Both solutions protect users and businesses from threats by detecting malicious files and spammed messages, and blocks all related malicious URLs. Trend Micro Deep Discovery™ has a layer for email inspection that can protect enterprises by detecting malicious attachments and URLs.
Trend Micro™ Hosted Email Security is a no-maintenance cloud solution that delivers continuously updated protection to stop spam, malware, spear phishing, ransomware, and advanced targeted attacks before they reach the network. It protects Microsoft Exchange, Microsoft Office 365, Google Apps, and other hosted and on-premises email solutions. Trend Micro™ Email Reputation Services™ detects the spam mail used by this threat upon arrival.
Trend Micro™ OfficeScan™ with XGen™ endpoint security infuses high-fidelity machine learning with other detection technologies and global threat intelligence, offering comprehensive protection against advanced malware.


Indicators of Compromise
| | |
| --- | --- |
| SHA256 | PAYLOAD |
| f3ce17bba51df5f14fa5ac09b9861856bfe6a3bc2646953185ca8edf43dd430e | W2KM_DLOADER.WIZ |
| 1eb0769c885d9a5583c603b0c2605978ec6da80a649df82663d7f30234492bdf | PDF_MDROP.E |
| bd358762e051bce7fbfc5b7cc6850e6ec34010b019ec86dc4c976cdfa3b9f55e | P2KM_DLOADR.YSU |
| 4c6e89bfb50d63f623bb71e3e1a449ef3b2fa7901776db8270a448be6589caba | BKDR_COBEACON |
With additional analysis by Noel Llimos, Kawabata Kohei and Anita Hsieh.


HIDE
Like it? Add this infographic to your site:
1. Click on the box below. 2. Press Ctrl+A to select all. 3. Press Ctrl+C to copy. 4. Paste the code into your page (Ctrl+V).
Image will appear the same size as you see above.