A Guide to Avoiding Cyber Monday Scams on Mobile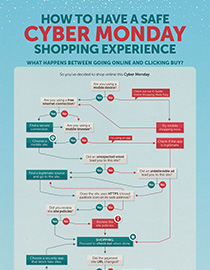 view infographic: How to Have a Safe Cyber Monday Shopping Experience
Nearly a decade after the term first came out in 2005, Cyber Monday, or the Monday right after Thanksgiving, continues to be observed annually as a major shopping day for consumers and online retailers. Along with Black Friday, recognized as the day when retail stores offer big sales and discounts, this weekend has evolved into a week-long event that marks the start of the annual shopping season.
Cyber Monday and Black Friday sales have always been on the rise. After hitting off its first billion dollar mark in 2010—the first in online sales history—Cyber Monday sales have already reached $1.7 billion by 2013.
It's beginning to look a lot like Christmas for retailers as researchers predict yet another 15% increase in online sales over a five-day holiday shopping period. This time, just like in past years, one big factor for the increase is the convenience that mobile browsing offers.
"Smartphones will continue to lead in mobile browsing over the five-day shopping period, accounting for 29 percent of all online traffic versus 15 percent for tablets. However, IBM predicts tablets will account for twice as many mobile purchases than smartphones thanks to the larger screen size," notes IBM researchers who predicted that record mobile holiday shopping numbers are to be expected as "consumers browse and buy on the go."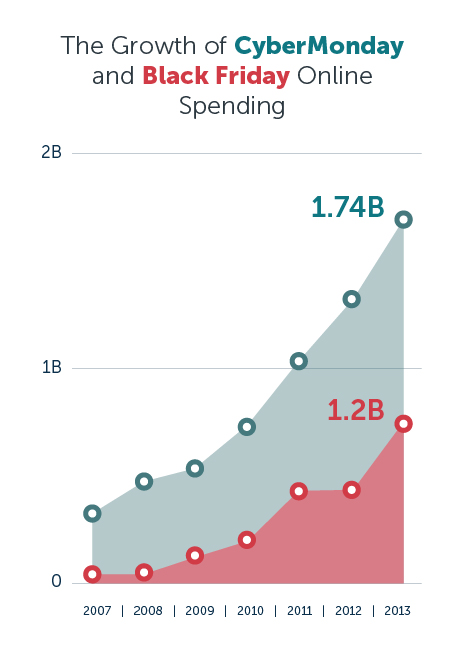 If you are one of the millions of consumers who plan to shop from your mobile device this Cyber Monday, know that the combination of online shopping, mobile devices, and the holiday season makes for a tasty cocktail that's rife with cybercriminal action.
One risky tap can cost a lot for mobile device users. "As of October, we reached a total of almost 11 million unique apps in our sample collection, 3.8 million of which we detect as Android threats," says a recent Trend Micro mobile report. Nearly a third or 29% of all apps checked by a mobile app reputation software displayed malicious routines. These routines include spying, stealing data, and even subscribing phones to premium services.
[Read: Are You Guilty of Poor Mobile Security?]
With Cyber Monday close on our heels, mobile scams are sure to target online shoppers. They can take the form of very interesting graphics, attractive ads, discount coupons, or exclusive offers that are too good to pass up on. If you're on the verge of tapping on that ad, be smart about it. Follow this step-by-step guide to make sure that you're safe from the moment you go online to the point you click on "Buy."
HIDE

Like it? Add this infographic to your site:
1. Click on the box below. 2. Press Ctrl+A to select all. 3. Press Ctrl+C to copy. 4. Paste the code into your page (Ctrl+V).
Image will appear the same size as you see above.