Inside the Smart Home: IoT Device Threats and Attack Scenarios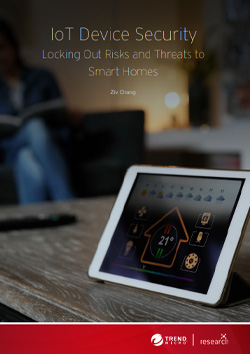 Download IoT Device Security: Locking Out Risks and Threats to Smart Homes
A smart home is made up of a number of different devices connected to the internet of things (IoT), each with a specific set of functions. No matter how different these devices are from one another, they have the shared goal of streamlining the tasks and simplifying the lives of their users. Together they paint an enticing image of comfort and convenience. However, just as these devices have revolutionized home living, they have also given rise to new complications for home security.
We detail different smart home attack scenarios and discuss the different attack layers of IoT devices in our paper, "IoT Device Security: Locking Out Risks and Threats to Smart Homes." Here we give an overview of the possible attack scenarios for various smart home devices and suggest security solutions.
Inside a smart home
A smart home gives users extensive access to many aspects of their home, even from a remote location. For example, users can monitor their home in real time through a mobile app or web interface. They can also initiate certain actions remotely, such as communicating with their children using a smart toy or unlocking a smart lock for a trusted friend.
Smart home devices also provide automatic and chained functions that can make day-to-day living more convenient for users. For example, in the morning the smart coffee maker starts brewing before the users need to get up for work. Once the users are in the kitchen, the smart refrigerator alerts them that they are low on supplies, if it has not yet ordered the needed items. As the users go out the door, the smart lock automatically locks behind them. And now that the house is empty, the smart robot vacuum cleaner starts its scheduled cleaning.
This scenario and plenty of others are possible if users have good control and visibility over the deployed devices in their smart homes. But problems arise if this control and visibility, unbeknown to the users, shift to malicious actors.
Compromised devices in a smart home
Existing vulnerabilities, poor configuration, and the use of default passwords are among the factors that can aid a hacker in compromising at least one device in a smart home system. Once a single device is compromised, hackers can take a number of actions based on the capabilities and functions of the device. We illustrate some of them here.
Starting from the front door, there can be a smart lock. If compromised, the smart lock can give hackers control over who comes in or out of the house. The most obvious action available for hackers, then, would be to let intruders or accomplices in to the house, and another would be to lock out the actual residents.
Inside the living room, several other devices can be set up. One of these can be a smart speaker, which serves as the conduit for voice-initiated home automation commands. If compromised, a voice-activated device such as a smart speaker can allow hackers to issue voice commands of their own.
In the kitchen, devices like a smart refrigerator and a smart coffee maker can cause major issues if successfully hacked. Hackers can set up a smart refrigerator to register wrong expiration dates or order an immense amount of groceries online. And even a smart coffee maker can cause great inconvenience if commanded by hackers to brew coffee incessantly.
Smart devices can now also be found even in the bathroom, most commonly in the form of smart toilets. A smart toilet has different features, such as sensing the right amount of water for flushing waste, that can be very helpful for users. But hackers can use some of its features to make the device act up, by making the toilet flush repeatedly or let water flow continuously from the bidet.
Hover overTap warning sign for more info.
Specific members of the household can also be targeted depending on the device being compromised. In the case of children, compromised smart toys pose a particular risk. Hackers can, for example, communicate with the child directly or quietly record the child's activities using the toy. Vulnerable smart toys illustrate how even items that are safe enough for child use can still cause harm if compromised.
Smart bulbs can be installed all around the house, from the basement to the attic. They can be turned on or off depending on the time of day or amount of movement or ambient light detected. But hackers can use these seemingly simple devices to disturb residents, by switching them on at inconvenient times, among other actions.
Devices like smart robot vacuum cleaners, which have some mobility around the house, can provide hackers information about the home's layout. This information can be used by the hackers in planning further activities and movements.
The point where smart devices are connected can also prove useful for hackers. Hackers can use the home gateway to redirect or modify connections to their advantage. This demonstrates that anything connected to the smart home network can be as useful to a resourceful hacker as it is to the actual owner.
Outside a smart home
Although our discussion of compromise and its consequences has centered on smart homes, the same problems can exist anywhere vulnerable or misconfigured devices are deployed. The consequences of a successful attack on a particular IoT system depend on the kind of environment the system is used for.
Many, if not all, of the devices mentioned above can easily be seen in an enterprise setting. An office pantry or break room, for example, can contain a smart refrigerator and a smart coffee maker. And smart bulbs certainly will not be out of place in an enterprise, especially as they can help the business conserve energy if deployed on a large scale.
Portable and wearable smart devices add another layer of complexity to IoT security concerns, as these devices traverse both enterprise and home environments, and have even given rise to updates on many companies' "bring your own device" (BYOD) policies. These devices, such as smartwatches and smart yoga mats, are typically brought by users to the office, and then brought back home at the end of the work day. A malware infection picked up in one environment, for example, can spread to the other if the BYOD policies in place are weak or if adequate security measures are not taken to prevent such a threat.
Securing smart devices
More than showing what hackers can do with smart devices, these scenarios show how deeply the IoT has become integrated in people's lives. This is apparent in how there is an applicable IoT device for every part of a home, from the living room and the kitchen to the bathroom and the attic. This deep involvement in people's lives is what makes IoT attacks both viable for hackers and impactful for users. Arguably, nowhere have cyberthreats been more potentially invasive and personal than in smart homes.
It is all the more reason, then, for users to secure the IoT devices in their smart homes. Here are some security measures that users can take to protect and defend their smart homes against attacks on IoT devices:
Map all connected devices. All devices connected to the network, whether at home or at the enterprise level, should be well accounted for. Their settings, credentials, firmware versions, and recent patches should be noted. This step can help assess which security measures the users should take and pinpoint which devices may have to be replaced or updated.
Change default passwords and settings. Make sure that the settings used by each device are aligned toward stronger security, and change the settings if this is not the case. Change default and weak passwords to avoid attacks like brute force and unwanted access.
Patch vulnerabilities. Patching may be a challenging task, especially for enterprises. But it is integral to apply patches as soon as they are released. For some users, patches may disrupt their regular processes, for which virtual patching could be an option.
Apply network segmentation. Use network segmentation to prevent the spread of attacks, and isolate possibly problematic devices that cannot be immediately taken offline.
Read our paper, "IoT Device Security: Locking Out Risks and Threats to Smart Homes," for more on this topic, including descriptions of other attack scenarios, a discussion of the different attack layers of an IoT device, and further security steps users can follow to keep their smart homes safe.
HIDE
Like it? Add this infographic to your site:
1. Click on the box below. 2. Press Ctrl+A to select all. 3. Press Ctrl+C to copy. 4. Paste the code into your page (Ctrl+V).
Image will appear the same size as you see above.