Defending Against Data Breach Attacks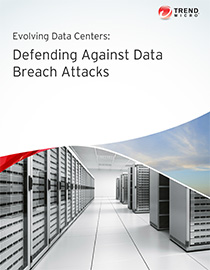 View primer: Defending Against Data Breach Attacks
The rapidly changing global economic landscape demands more efficient and cost-effective processes from organizations that wish to survive in the long run. To this end, organizations need to maintain data centers that would properly house a wide range of sensitive information, from valuable age-old restaurant recipes to operational codes that can stop gargantuan power plants from working.
Unlike how physical servers were traditionally set before, modern data centers have evolved to hyper-connected versions that take advantage of the latest in virtualization and cloud computing technologies. These advancements allow organizations to operate in a more agile and dynamic manner to better serve stakeholders. They also give employees more options in accessing company information. More importantly, adopting these technologies can help reduce company costs and optimize resources.
Many would argue that traditional data centers are far easier to protect. Since they are physically limited when it comes to network access, possibilities of breach are minimal. As such, many IT administrators who are used to protecting traditional network setups tend to carry this lax security mindset, even if the organization they work for has already advanced to a mixed network environment.
Although adopting virtualization and cloud computing may be beneficial for the company's operations, they also open their network to more flaws threat actors can attack. Here are some of the problems that arise with these mixed IT environments:
The use of outdated agent-based security in mixed environments creates "instant-on gaps" that may be exploited. Updating each agent may also take up a lot time as well as CPU resources.
Traditional network security may suffer from communication blind spots as not all exchanges that occur between VMs are visible to these technologies.
Threats that affect physical environments may also affect virtual ones; they may be prone to inter-VM attacks and hypervisor compromises.
The variety of where critical applications and data are housed also makes it difficult to control security for these mixed trust level VMs.
Unprotected web applications may be exposed once virtualization and cloud platforms are integrated into existing systems.
"Addressing emerging problems in evolving IT environments using traditional security is bound to fail because of the inherent differences between physical and mixed environments," explains the primer, Evolving Data Centers: Defending Against Data Breach Attacks. It goes on to add how the growing sophistication of data breach attacks further compound these risks to mixed environments. The primer details the specific methods enterprises can use to protect their evolving data centers from attacks

HIDE

Like it? Add this infographic to your site:
1. Click on the box below. 2. Press Ctrl+A to select all. 3. Press Ctrl+C to copy. 4. Paste the code into your page (Ctrl+V).

Image will appear the same size as you see above.