Internet of Things: Connected Life Security
Perceptions across the globe
The world is now more connected than ever. Gartner predicts 25 billion connected devices will be in use by 2020. How is this increased convenience affecting our privacy and security across the globe?
Trend Micro sponsored a study by the Ponemon Institute to find out. More than 1,900 people in the US, Europe, and Japan participated in the effort to explore privacy and security issues and shared their perceptions about sensitive personal data, including the value they place on their personal information.
Security in the age of the Internet of Things
The next big phase of the "connected life" is coming. It's called the Internet of Things (IoT, also alternatively called the Internet of Everything). The term refers to the increased digitalization of everyday objects. Any new technological device, whether a smart TV or a smart toaster, is now designed with Internet connectivity in mind. The possibilities are endless. And so are the opportunities for loss of personal data and privacy.
Securing these connected devices is a big security challenge. In the study, 47% of the consumers said they have become more concerned about privacy and security over the last five years. However, the concerns of the European and Japanese respondents differed from those of the US respondents. How did privacy and security concerns vary across America, Europe, and Japan?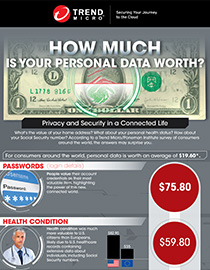 View infographic: How Much is Your Personal Data Worth?
How much is your personal information worth?
At what cost are people willing to share their personal information? In the report, 56% of the respondents said they would share their personal information in exchange for money if it's with a trusted third party. When asked to assess the value of their personal data, participants identified account passwords as the most expensive piece of information. Can you guess what price tags they put on other types of sensitive data?
The privacy vs. security dilemma
Respondents were more concerned about their device security than data privacy when using IoT and social media. The high concern among respondents about the security of their devices is likely due to the greater fear of becoming a victim of a data breach or identity theft due to a security problem with the device. Should people be as concerned about data privacy as they are about their device security?

Get the complete results
Protecting your devices, data, and privacy
Trend Micro™ Maximum Security provides comprehensive, multiple device protection and privacy for your connected lifestyle. Recently awarded the "Best Protection Award"  by AV-Test.org for 2014, Maximum Security is designed to safeguard you and your family on social networks like Facebook, Google+, Twitter, and LinkedIn.  With its parental controls, you can restrict or filter website access when your kids go online. Plus, Maximum Security has password management tools and storage for up to 5 GB of your files in the cloud.
Learn more about all-in-one security protection
HIDE

HIDE
Like it? Add this infographic to your site:
1. Click on the box below. 2. Press Ctrl+A to select all. 3. Press Ctrl+C to copy. 4. Paste the code into your page (Ctrl+V).
Image will appear the same size as you see above.