Threat Actors Deliver Courier-Themed Spam Campaign with Attached ACE Files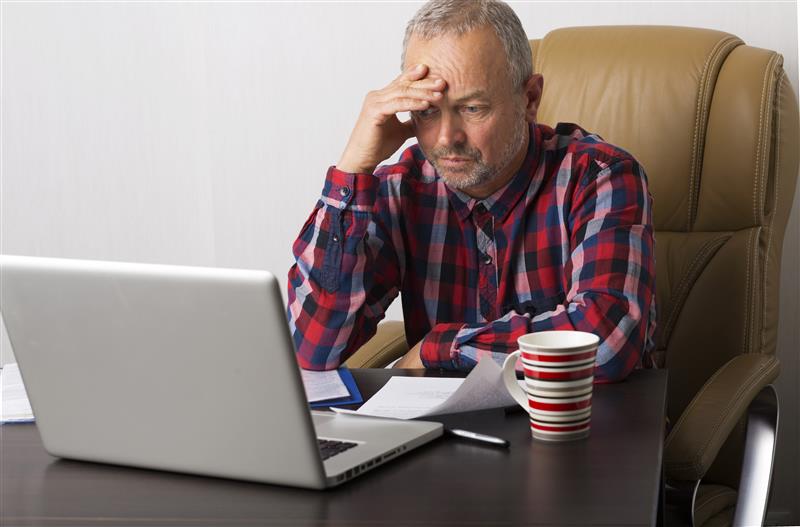 Insights and Analysis by Miguel Ang
Trend Micro researchers detected a new courier service themed malicious spam campaign that uses ACE files (detected by Trend Micro as Trojan.Win32.GULOADER.A) as attachments. The samples were gathered from our honeypot.
The email poses as a shipment arrival notification with a fake receipt attached. It then convinces the receivers to download the attachment by asking them to check if the address on the receipt is correct.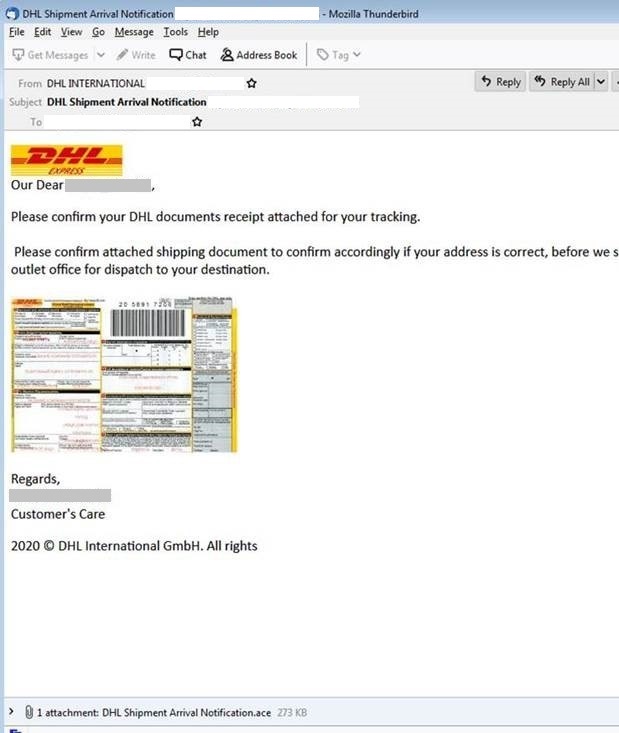 Figure 1. Sample DHL-themed spam email
The ACE file contains a zip file and an executable payload, which acts as a downloader upon extraction and execution.



Figure 2. Attachment Contents
The zip is password protected and contains another executable.



Figure 3. DHL themed spam
The binary is a downloader that will access a link to download its payload, set up a startup registry, and execute the payload using a VBS script. The indicated link does not download a file. However, the setup still makes future compromise possible.



Figure 4. Binary file from the malicious attachment
We have been receiving other spam samples with the same payload. ACE is a data compression archive produced by WinACE. It can be opened using tools such as WinACE or BitZipper.
Delivery services themed campaigns are not new; earlier campaigns we detected delivered backdoor, Emotet, trojans, and other malware types. Other payloads made it possible to intercept text messages.
 
Thwarting spam campaigns
Cybercriminals continue to use
socially-engineered
strategies, such as the use of timely news like the
Coronavirus (COVID-19) outbreak
and posing as legitimate institutions and merchants, to bait users to open spam emails and download malicious attachments or click links. Employees who unintentionally download malware not only potentially compromise their systems, but the entire company's as well. Users can avoid these threats by following these
best practices
:
Do not download attachments or click links from unverified sources.

If the email comes from a seemingly familiar source, verify via the company's phone number or other contact details if they indeed sent the email.

If the company sent legitimate emails before, check the new sender's email address. If it is an entirely different source or the email address is spoofed, the email is most likely spam.
Indicators of Compromise

Filename

SHA-256

Trend Micro Pattern Detection
DHL Shipment  Arrival Notification.exe

accfdbd1af174d1134015daa4bc39ee1




b5c8b88df4ecee8ea0c9cda660bb18c7

Trojan.Win32.GULOADER.A
DHL Shipment  Arrival Notification.ace

1e6db9987ba9662be6f49c006b042766




f85027266427d6e3b3c62faac310542d

Trojan.Win32.GULOADER.A

DHL Shipment  Arrival Notification.zip




eaa6bbbfd75eab17c2808b0c2dd4a5d5




a5ee473cc7cd5e93ce4302c4f830202d

N/A
HIDE
Like it? Add this infographic to your site:
1. Click on the box below. 2. Press Ctrl+A to select all. 3. Press Ctrl+C to copy. 4. Paste the code into your page (Ctrl+V).
Image will appear the same size as you see above.