Cyber Threats
Deploy Layered Security with Azure GWLB & Trend Micro
Looking to deploy broad network layer protection that integrates with your Azure services? You're in the right place. Learn more about our latest launch partnership with Azure Gateway Load Balancer.
---
You have a load balancer to keep your app running efficiently and you may even have security that inspects incoming traffic to detect and stop risks. But what about the pesky bad guys that slip through? Vulnerabilities are inevitable. You need proactive and reactive layered security, so on the off chance something does slide through, you have 10 additional metaphorical nets to catch it in.
That's why we're excited to be a launch partner for Azure Gateway Load Balancer (GWLB) to provide you with broad, layered security that has your front and back. Thanks to service chaining with Azure GWLB, Trend Micro Cloud One™ – Network Security can be deployed without hassle to monitor and provide deep inspection for inbound and outbound traffic.

Watch the video below to see how Trend Micro Cloud One™ – Network Security can be deployed within minutes to provide broad, layered protection.
If you're one of those rare people who'd rather read than watch, here's a quick overview of you how Network Security can make your life easier:
Just one of seven security services that make up the Trend Micro Cloud One™ platform

Designed to fit into existing architectures: no rebuilding, redesigning, or re-routing traffic patterns and no additional route configurations needed

Integrate virtual appliances (VAs) transparently into the network path with ease and add or remove said VAs with a simple click

Deep packet inspection for ingress and egress traffic

Intrusion prevention system (IPS) capabilities with virtual patching

Log files allow you to track vulnerabilities

Available on Azure Marketplace for quick procurement and deployment into an existing environment as well as ability to scale at ease while managing costs
Before: Without Network Security and Azure GWLB 🙁 🙁 🙁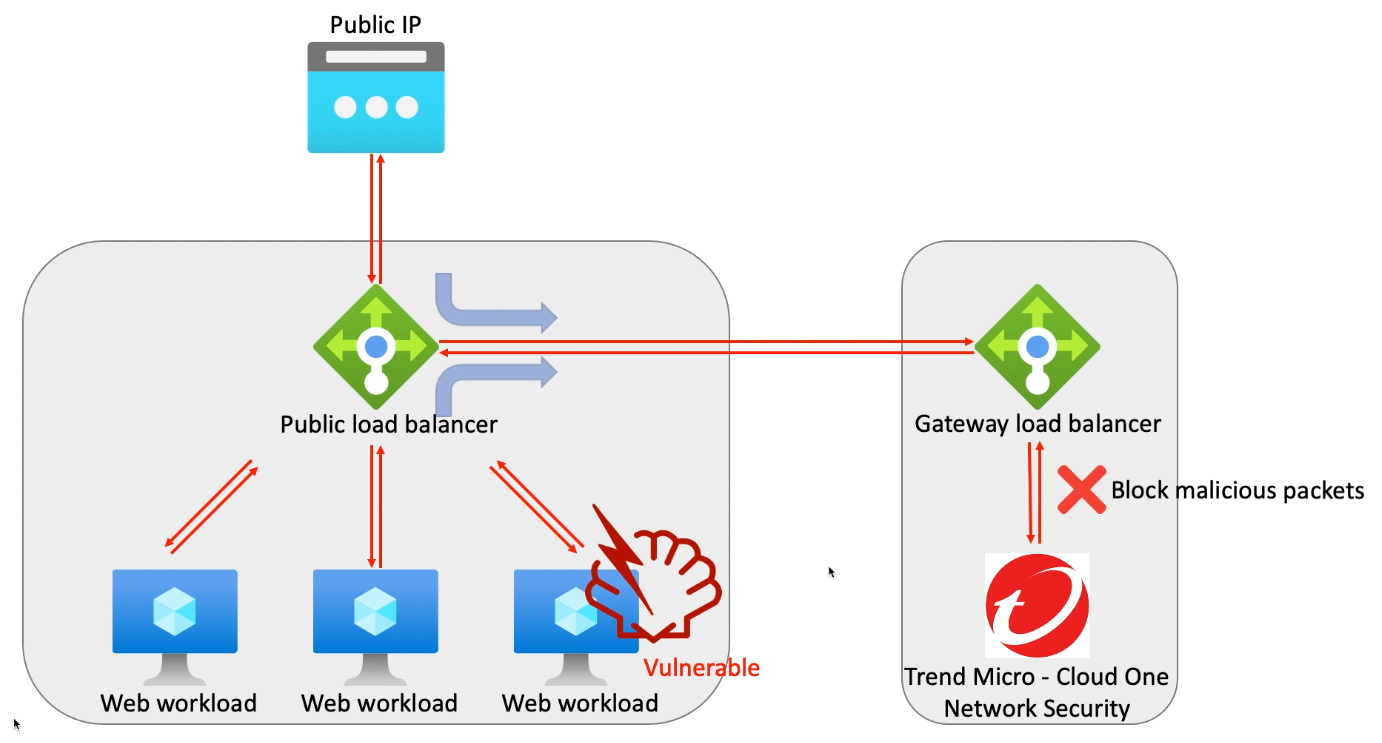 After: With Network Security and Azure GWLB 🙂 🙂 🙂
Next steps
Follow our quick demo and experience it yourself with a free, 30-day trial of Trend Micro Cloud One™.
Authors