Cyber Threats
The Life Cycle of a Compromised (Cloud) Server
We dive into the common life cycle of a compromised server from initial compromise to the different stages of monetization preferred by criminals.
---
Trend Micro Research has developed a go-to resource for all things related to cybercriminal underground hosting and infrastructure. Today we released the second in this three-part series of reports which detail the what, how, and why of cybercriminal hosting (see the first part here).
As part of this report, we dive into the common life cycle of a compromised server from initial compromise to the different stages of monetization preferred by criminals. It's also important to note that regardless of whether a company's server is on-premise or cloud-based, criminals don't care what kind of server they compromise.
To a criminal, any server that is exposed or vulnerable is fair game.
Cloud vs. On-Premise Servers
Cybercriminals don't care where servers are located. They can leverage the storage space, computation resources, or steal data no matter what type of server they access. Whatever is most exposed will most likely be abused.
As digital transformation continues and potentially picks up to allow for continued remote working, cloud servers are more likely to be exposed. Many enterprise IT teams, unfortunately, are not arranged to provide the same protection for cloud as on-premise servers.
As a side note, we want to emphasize that this scenario applies only to cloud instances replicating the storage or processing power of an on-premise server. Containers or serverless functions won't fall victim to this same type of compromise. Additionally, if the attacker compromises the cloud account, as opposed to a single running instance, then there is an entirely different attack life cycle as they can spin up computing resources at will. Although this is possible, however, it is not our focus here.
Attack Red Flags
Many IT and security teams might not look for earlier stages of abuse. Before getting hit by ransomware, however, there are other red flags that could alert teams to the breach.
If a server is compromised and used for cryptocurrency mining (also known as cryptomining), this can be one of the biggest red flags for a security team. The discovery of cryptomining malware running on any server should result in the company taking immediate action and initiating an incident response to lock down that server.
This indicator of compromise (IOC) is significant because while cryptomining malware is often seen as less serious compared to other malware types, it is also used as a monetization tactic that can run in the background while server access is being sold for further malicious activity. For example, access could be sold for use as a server for underground hosting. Meanwhile, the data could be exfiltrated and sold as personally identifiable information (PII) or for industrial espionage, or it could be sold for a targeted ransomware attack. It's possible to think of the presence of cryptomining malware as the proverbial canary in a coal mine: This is the case, at least, for several access-as-a-service (AaaS) criminals who use this as part of their business model.
Attack Life Cycle
Attacks on compromised servers follow a common path:
Initial compromise:

At this stage, whether a cloud-based instance or an on-premise server, it is clear that a criminal has taken over.

Asset categorization:

This is the inventory stage. Here a criminal makes their assessment based on questions such as, what data is on that server? Is there an opportunity for lateral movement to something more lucrative? Who is the victim?

Sensitive data exfiltration:

At this stage, the criminal steals corporate emails, client databases, and confidential documents, among others. This stage can happen any time after asset categorization if criminals managed to find something valuable.

Cryptocurrency mining:

While the attacker looks for a customer for the server space, a target attack, or other means of monetization, cryptomining is used to covertly make money.

Resale or use for targeted attack or further monetization:

Based on what the criminal finds during asset categorization, they might plan their own targeted ransomware attack, sell server access for industrial espionage, or sell the access for someone else to monetize further.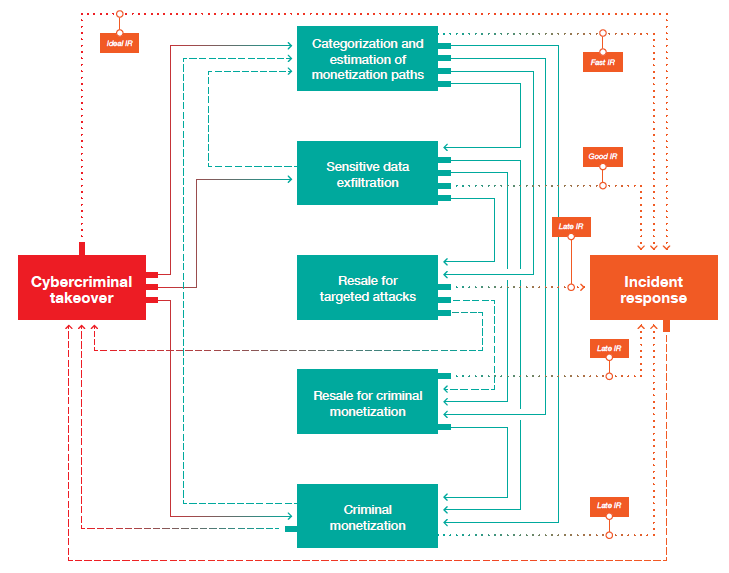 Often, targeted ransomware is the final stage. In most cases, asset categorization reveals data that is valuable to the business but not necessarily valuable for espionage.
A deep understanding of the servers and network allows criminals behind a targeted ransomware attack to hit the company where it hurts the most. These criminals would know the dataset, where they live, whether there are backups of the data, and more. With such a detailed blueprint of the organization in their hands, cybercriminals can lock down critical systems and demand higher ransom, as we saw in our 2020 midyear security roundup report.
In addition, while a ransomware attack would be the visible urgent issue for the defender to solve in such an incident, the same attack could also indicate that something far more serious has likely already taken place: the theft of company data, which should be factored into the company's response planning. More importantly, it should be noted that once a company finds an IOC for cryptocurrency, stopping the attacker right then and there could save them considerable time and money in the future.
Ultimately, no matter where a company's data is stored, hybrid cloud security is critical to preventing this life cycle. 
Authors