---
Cybercriminals are well-versed in preying upon anyone curious about world events.  Case in point: the upcoming 2014 FIFA World Cup in Brazil. While the world is waiting for this, cybercriminals are not wasting time and are now launching new threats that turn global followers into victims.
Search Results Leads to Malware, Adware
We recently found a file named
Jsc Sport Live + Brazil World Cup 2014 HD.rar.
, which contains the file
Brazil World Cup Streaming 2014.exe.
This .file is a backdoor identified as
BKDR_BLADABIN.AB
. This particular backdoor is a BLADABINDI variant which is believed to have been created with nJRAT, a known remote access tool. It executes commands from a remote malicious user, effectively compromising the affected system. It can also capture screenshots, which can be used to obtain sensitive information. Football gaming fans are also targeted. A World Cup-related search led to a supposed key generator for the game
FIFA 14
. However, the supposed key generator is actually adware identified as
ADW_INSTALLREX
.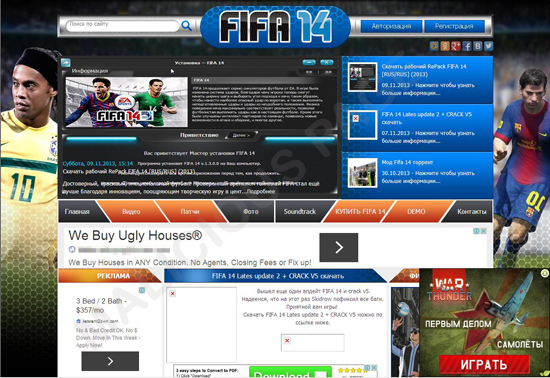 Figure 1. Site hosting the fake key generator
Phishing Attacks Spotted
World Cup threats are not limited to malware. Last year, we saw phishing emails that used a supposed "FIFA World Cup 2014 Promotional Draw" to convince users to share personal information. Recently, we saw a website that tricks users into providing information, including their credit card credentials. As of this writing, the page has been taken down.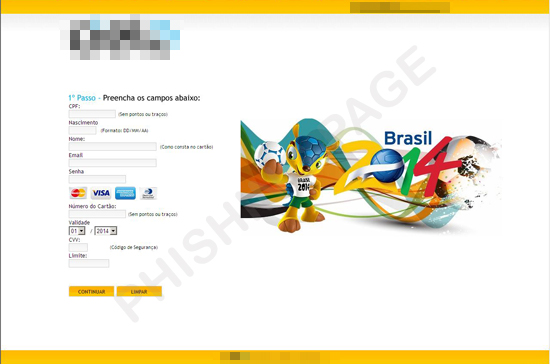 Figure 2. Phishing page
The Need for Constant Vigilance
Constant vigilance remains as the biggest shield one can use as defense to such social engineering schemes. From timely spammed messages to suspicious social media posts, cybercriminals know how to bait you into becoming a victim. . Think and verify before you click on the next link that appears on your mail. For more tips against social engineering schemes, you may read our Digital Life e-Guide "
How Social Engineering Works
."
The Race to Security hub contains aggregated TrendLabs content on security stories related to major sporting events. We'll soon be featuring the 2014 FIFA World Cup.
With additional analysis from Abigail Villarin, Antonio Pangilinan II, Karla Agregado and Rika Gregorio
Authors