Cloud
XDR Security : More Security. More Savings.
You don't have to sacrifice security for savings. Discover the business, security, and financial benefits of the XDR capabilities of Trend Micro Vision One in the ESG Economic Validation report.
---
ROI is a key consideration for choosing a security solution, but it can be difficult to accurately evaluate the true value of a product you may be considering. To help, Trend Micro enlisted ESG to conduct a study on the qualitative and quantitative value of the extended detection and response (XDR) capabilities in Trend Micro Vision One™, so you can make an informed decision. Discover the security, operational, and financial value of our XDR capabilities in the ESG Economic Validation report.

Security that goes above and beyond.

In today's evolving threat landscape, you need detection and response beyond the endpoint. There are too many limitations with EDR—like the inability correlate threat data across all environments – endpoint, email, cloud, and network.
That's why choosing a solution with XDR capabilities is vital to strengthening your security posture. Compared to EDR, XDR delivers significant incremental value, including:
More visibility

: See the big picture with visibility across multiple environments—beyond the endpoint. No more siloed threat data and limited insights.·

More meaningful alerts

: Correlated threat data means high-fidelity alerts instead of an overwhelming number of false positives. With prioritized alerts, IT teams can respond faster to critical incidents.

Minimize IT security stretch

: A comprehensive understanding of your threat landscape reduces the burden on security teams to manually piece together the puzzle. Instead, they can focus on the business value of digital transformation.

More cost savings

: Better security lowers the organizational risk from attacks and the cost of delivering effective security.
The value of XDR
By leveraging real-world use cases and conducting in-depth interviews with Trend Micro customers, the ESG Economic Validation study analyzed the business and operational benefits of XDR in Trend Micro Vision One. Key findings include:
Organizations highly aligned with XDR:

Suffered 50% less attacks

Are 2.2x more likely to detect a data breach or successful attacks in only a few days or less

Are 60% less likely to report attack repropagation

Security Effectiveness: Compared to other XDR solutions, Trend Micro Vision One allows customers to increase security effectiveness and improve their security posture. Reducing complexity was a key contributor to overall improvement. One customer reported that less complexity led to a more than 25% reduction in human-caused errors.

Business enablement: By eliminated siloed views, enabling data consolidation, and improving detection and response times, the XDR capabilities of Trend Micro Vision One provided multiple positive outcomes for organizations. These benefits include lowering barriers to explore new opportunities and reducing the risk involved.

Cost reduction: Fewer false positives and less manual correlation gives security teams time back. Organizations reported an average of eight full-time employees would be needed to replace the correlation and analytics that XDR provides.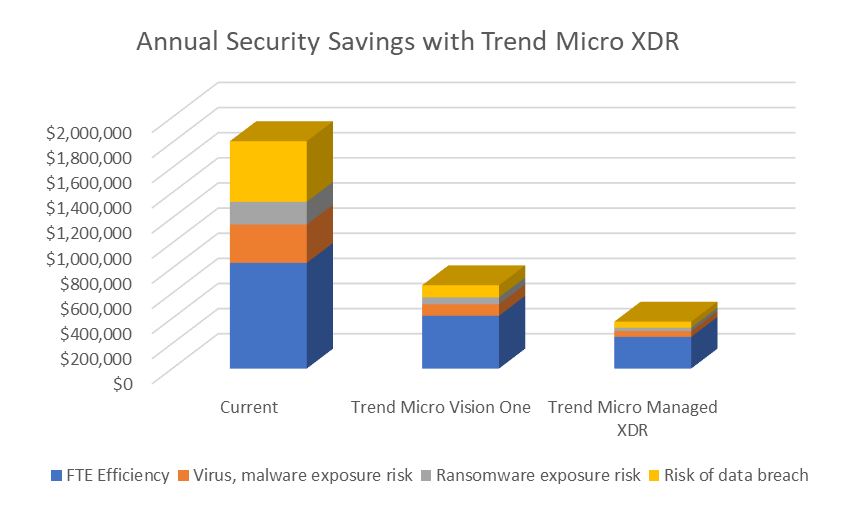 Authors