ALIASES:
HEUR:Exploit.SWF.Agent.gen (Kaspersky)
PLATFORM:
Windows 2000, Windows Server 2003, Windows XP (32-bit, 64-bit), Windows Vista (32-bit, 64-bit), Windows 7 (32-bit, 64-bit)


Threat Type: Trojan

Destructiveness: No

Encrypted: No

In the wild: Yes
Infection Channel:
Downloaded from the Internet
This malicious Adobe Flash file is related to the Adobe zero-day vulnerability, <i><a href="http://about-threats.trendmicro.com/us/vulnerability/5895/adobe%20flash%20player%20buffer%20overflow%20vulnerability%20cve20140515" target="_blank">Adobe Flash Player Buffer Overflow Vulnerability (CVE-2014-0515).</a></i>
To get a one-glance comprehensive view of the behavior of this Trojan, refer to the Threat Diagram shown below.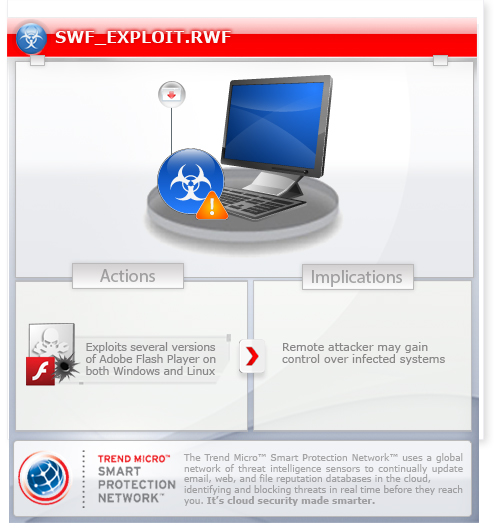 This Trojan may be unknowingly downloaded by a user while visiting malicious websites.
It takes advantage of certain vulnerabilities.
Initial Samples Received Date:
30 Apr 2014
Arrival Details
This Trojan may be unknowingly downloaded by a user while visiting malicious websites.
Other Details
More information on this vulnerability can be found below:
It takes advantage of the following vulnerabilities:
Buffer overflow in Adobe Flash Player before 11.7.700.279 and 11.8.x through 13.0.x before 13.0.0.206 on Windows and OS X, and before 11.2.202.356 on Linux, allows remote attackers to execute arbitrary code via unspecified vectors, as exploited in the wild in April 2014 (CVE-2014-0515)
NOTES:

It loads an ActiveX control file named flash10p.ocx (Adobe Flash Player 10) and executes an unexported function.
It also requires Cisco MeetingPlace Express Add-In version 5x0 to be installed in the system to function properly.
Minimum Scan Engine:
9.700
FIRST VSAPI PATTERN FILE:
10.764.02
FIRST VSAPI PATTERN DATE:
30 Apr 2014
VSAPI OPR PATTERN File:
10.765.00
VSAPI OPR PATTERN Date:
01 May 2014
Step 1
Before doing any scans, Windows XP, Windows Vista, and Windows 7 users must disable System Restore to allow full scanning of their computers.
Step 2
Close all opened browser windows
Step 3
Scan your computer with your Trend Micro product to delete files detected as SWF_EXPLOIT.RWF. If the detected files have already been cleaned, deleted, or quarantined by your Trend Micro product, no further step is required. You may opt to simply delete the quarantined files. Please check this Knowledge Base page for more information.
Step 4
Download and apply this security patch Refrain from using these products until the appropriate patches have been installed. Trend Micro advises users to download critical patches upon release by vendors.
註:

日本語情報はこちら:

Did this description help? Tell us how we did.