ALIASES:
Backdoor:PHP/C99shell.G(Microsoft), Backdoor.PHP.C99Shell.AQ(Fsecure), Malware_fam.B(Fortinet), PHP/Rst.AK(ESET)
PLATFORM:
Windows 2000, Windows Server 2003, Windows XP (32-bit, 64-bit), Windows Vista (32-bit, 64-bit), Windows 7 (32-bit, 64-bit)


Threat Type: Backdoor

Destructiveness: No

Encrypted: Yes

In the wild: Yes
Infection Channel:
Spammed via email
This malware is part of an attempted PHP backdoor attack via spam that took place on March 2014. Users affected by this malware would be shown a user interface of the malware's control panel, which shows its backdoor capabilities.
To get a one-glance comprehensive view of the behavior of this Backdoor, refer to the Threat Diagram shown below.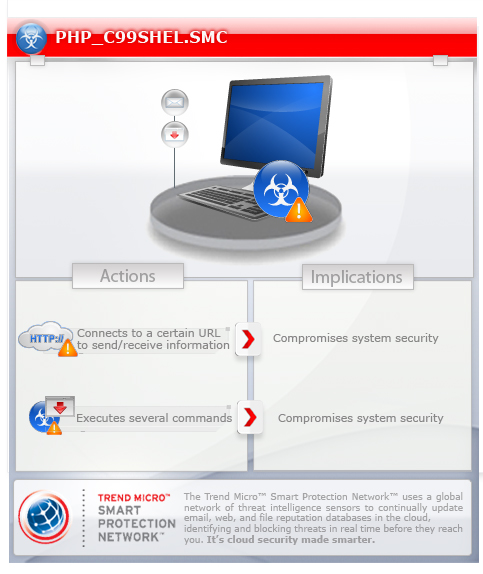 Initial Samples Received Date:
08 Jul 2011
Payload:
Compromises system security
Arrival Details
This malware arrives via the following means:
embedded in mass-mailed email message.
uploaded in a web server by malicious user
NOTES:

This malicious PHP script may be uploaded and installed on a web server by a remote malicious user via FTP after gaining access to the said server.
Once this PHP script is installed, the user may then launch a backdoor on the affected system.
Opening the page, the malicious user is shown the following GUI:
It has the following backdoor capabilities:
Detect available drives on the system
List files and folders
Provide user full access to files and folders
Search files with specific contents
Create file and folder
View file and folder information
Execute shell commands
View list of processes running on the system
Bind standard input/output of the command interpreter to assigned TCP port
Bind standard input/ output of the command interpreter to data from certain IRC server (Datapipe)
Manage SQL databases
Execute PHP code
Remove itself from the server
Scan FTP accounts for weak passwords using brute force and log them to file and e-mail
Upload/dowload files to/from the web server
Crack winnt passwords
Minimum Scan Engine:
9.700
FIRST VSAPI PATTERN FILE:
7.956.07
FIRST VSAPI PATTERN DATE:
08 Jul 2011
VSAPI OPR PATTERN File:
7.957.00
VSAPI OPR PATTERN Date:
08 Jul 2011
Step 1
Before doing any scans, Windows XP, Windows Vista, and Windows 7 users must disable System Restore to allow full scanning of their computers.
Step 2
Scan your computer with your Trend Micro product to clean files detected as PHP_C99SHEL.SMC. If the detected files have already been cleaned, deleted, or quarantined by your Trend Micro product, no further step is required. You may opt to simply delete the quarantined files. Please check this Knowledge Base page for more information.
Did this description help? Tell us how we did.