Spam Emails Deliver Malware Via Password-Protected Google Drive, Google Docs Archives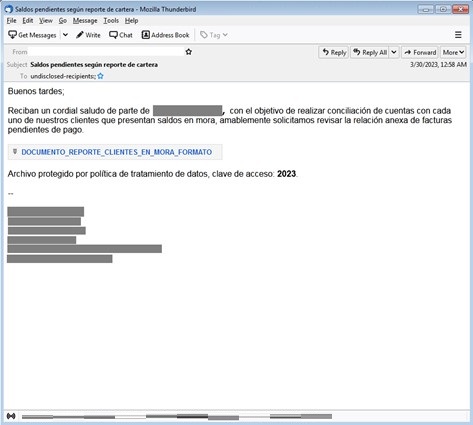 Recently, we observed spam emails that targeted users in Latin America. The emails, which were written in Spanish, informed victims about an outstanding balance or a pending payment. The emails contain Google Drive or Google Docs URLs that have the "export=download" parameter, which will automatically initiate the downloading of the malicious file once the victim selects the link.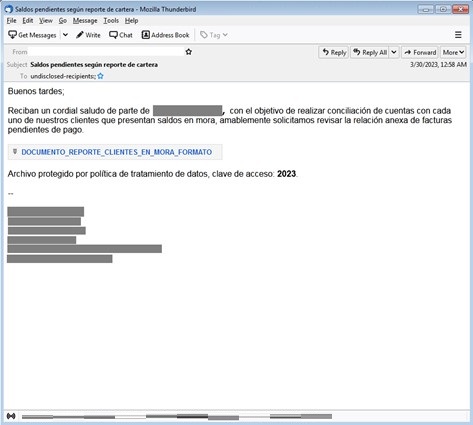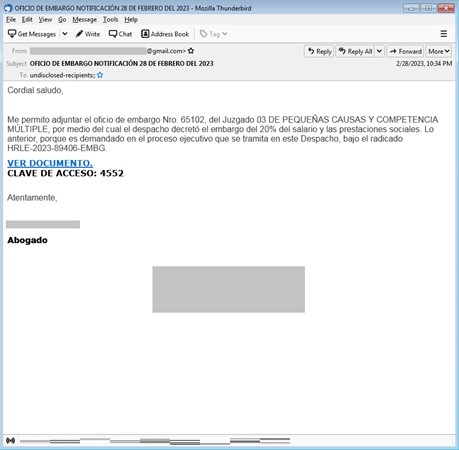 The downloaded file is a password-protected archive, which is a common tactic that malicious actors use for detection evasion purposes. The attackers provide the password for the password-protected archive in the email copy.
A variety of threats have been delivered in this campaign, including REMCOS, and ASYNCRAT, which can give attackers unauthorized access to a victim's machine.
These spam emails are already blocked by Trend Micro Email Security solutions. To remain protected against malware-laden spam campaigns, users should avoid downloading and opening files that come from unfamiliar senders.
 The following URLs automatically download password-protected files to victim machines:
hxxps[://]docs[.]google[.]com/uc?export=download&id=1wCjfcFW07h52cYbq444tGXFcrRsHZWLU
hxxps[://]docs[.]google[.]com/uc?export=download&id=1yKA5HQq8HdOnutz9ngHXKWqE5oaEvytK
hxxps[://]docs[.]google[.]com/uc?export=download&id=1yP3k2sumYo0UhFtuN6BGhH1XT7fIXCBZ
hxxps[://]docs[.]google[.]com/uc?export=download&id=1CjztaC5-91V3jPBZXBYX9wCH5eNbVVSk
hxxps[://]docs[.]google[.]com/uc?export=download&id=1Cb2tUlplO2UrmIy428mNIAP8UYUyGfic
hxxps[://]docs[.]google[.]com/uc?export=download&id=1HMXnq5M6Qxwn-XDuZ1u92N8cmoWMAFL-
hxxps[://]drive[.]google[.]com/uc?id=1Mi99157eA5aC4kpdY8Egdbad_GA3Uq0f&export=download&authuser=0
hxxps[://]drive[.]google[.]com/uc?id=18yTuJ-NMh4O0rjyOU9fOx0dXT8514Kzn&export=download&authuser=0
hxxps[://]drive[.]google[.]com/uc?id=1sJCcU38cLgUgXu4-FYjOjAkSbH45N0qY&export=download&authuser=0
SPAM BLOCKING DATE / TIME:
April 03, 2023 GMT-8
TMASE INFO
ENGINE:9.0.1004
PATTERN:2.7544.000