Fidel Castro "Dies" Again on US Labor Day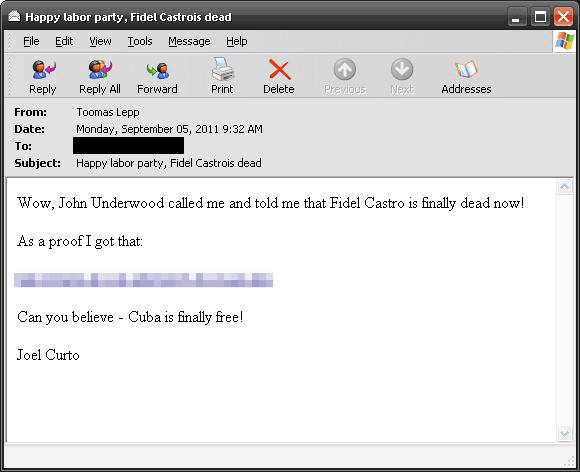 Trend Micro researchers spotted a series of spammed messages that reports on Fidel Castro's death, just in time for US Labor Day. The message contains a source that shares the news that the Cuban leader died and Cuba is now 'free.' To verify the claim, the message also contains a link to a web page that proves Castro's death. However, the said link was found to be malicious and is now blocked.
It should be noted that this isn't the first time the supposed death of Fidel Castro was used to spread email with malicious content. Current events hoaxes, such as the one used in the email, take advantage of the users' desire to get the latest information. For any major news update, users should rely on reputable news sources for confirmation, rather than on unknown links.
SPAM BLOCKING DATE / TIME:
September 06, 2011 GMT-8