Phishers Leverage Pacquiao-Marquez Boxing Fight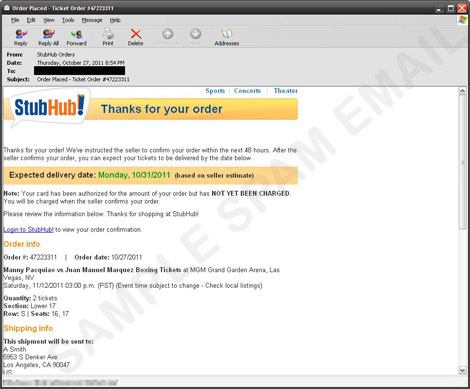 Major sporting events can always be counted on to grab the attention of the public. Trend Micro researchers came across spammed messages that use the upcoming boxing match between Manny Pacquiao and Juan Manuel Marquez to entice users into opening the email message.
The spammed messages claim to be notification from a prominent online marketplace. It informs recipients that they have successfully placed their ticket orders to watch the Pacquiao-Marquez match in Las Vegas. It then urges users to click on the link to confirm said ticket orders. However, once users click on the link, they are redirected to a phishing site that asks for their credentials.

Users are advised to be wary of clicking links in emails, even if these messages come from known sources. If you signed up for alerts from StubHub, ensure that you are viewing the correct StubHub page. We urge users to check account-related information by proceeding to the official website. For non-StubHub users, ignore email alerts such as this.
SPAM BLOCKING DATE / TIME:
October 28, 2011 GMT-8