Origin Users Targeted by Phishing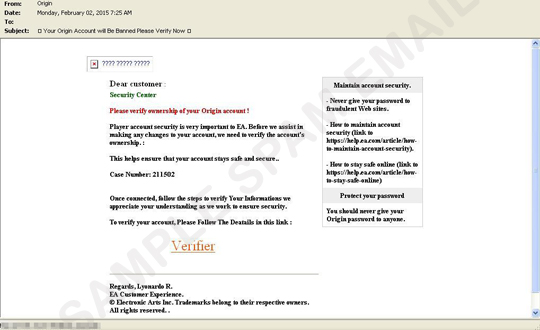 For Electronic Arts (EA) gamers, Origin is a familiar site - allowing gamers to purchase and download games online. Cybercriminals are also taking advantage of this site. Trend Micro researchers analyzed a spam message that purport to be Origin account verification. To catch an Origin user's attention, the email has the subject Your Origin Account will Be Banned Please Verify Now. If a user clicks on the Verify Now link, the user is redirected to a website to a phishing page where they enter necessary details:
This is not a sophisticated attack. Users will be able to protect themselves by doing the following:
Check the link before clicking on it. Hovering the mouse pointer on the Verify Now link would reveal the true website link you are clicking. Legitimate URLs should be ones that you know and frequent.
When you are redirected to a page where it is asking for your details, check the website address.
SPAM BLOCKING DATE / TIME:
February 02, 2015 GMT-8