Spammed Messages Target Participants of the Annual Meeting of New Champions 2011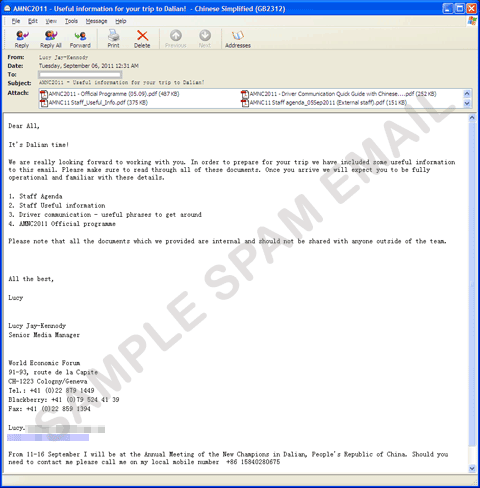 Trend Micro researchers recently spotted a spam campaign that specifically targets the attendees of the 2011 Annual Meeting of the New Champions, spearheaded by the Swiss non-profit organization World Economic Forum (WEF). The Annual Meeting of the New Champions aims to bring together top business leaders, world political leaders, and distinguished intellectuals and journalists to discuss key global issues in economics, business, health and the environment.
The messages appear to be notifications from the WEF about the said meeting. Attached are .PDF files that are supposed to help the recipients prepare for the event. The message urges the recipients to open the .PDF attachments, which contain malicious code. The .PDF file in this spammed message, however, does not load.
Users are advised to be wary in opening email messages from unfamiliar sources. Always verify the email message with the sender or contact.
SPAM BLOCKING DATE / TIME:
August 07, 2011 GMT-8