THREAT SUBTYPE:
Click Fraud, Hacking/Cracking Tool


Threat Type: Trojan

Destructiveness: No

Encrypted:

In the wild: Yes
Infection Channel:
Via app stores
This mobile malware is capable of mining specific cryptocurrencies via mobile.
To get a one-glance comprehensive view of the behavior of this Trojan, refer to the Threat Diagram shown below.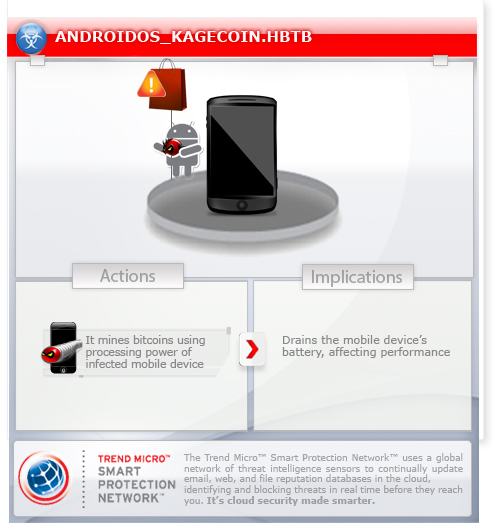 This cryptocurrency-mining app is found in Google Play. The app has been used to mine cyptocurrency for cybercriminals from infected Android devices, leading to battery drain issues.
File Size:
5,051,117 bytes
Initial Samples Received Date:
19 Mar 2014
Payload:
Battery drain, Connects to URLs/IPs
NOTES:

This cryptocurrency miner may be found in several apps available in Google Play.
Analysis of the app code reveals the cryptocurrency mining code occurs when the mobile device is charging. Therefore, the increased energy usage goes unnoticed.
This malware can also mine for other cryptocurrencies apart from bitcoin.
Symptoms of infected devices are slow charging and overheating.