National Cyber Security Awareness Month: The Enterprise's Safety Online Is Everyone's Business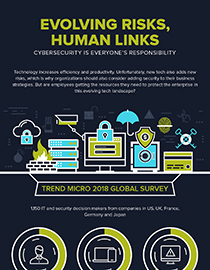 View Infographic: Evolving risks, human links
As innovations in technology progress, so do our expectations for efficiency and productivity. Unfortunately, cybercriminals also constantly improve the tools and methods they use to infiltrate organizations and get to valuable enterprise assets. The National Cyber Security Awareness Month emphasizes the importance of security awareness, and an appropriate time to remind enterprises that they should always consider security when planning and implementing any project or process.
Our 2018 Midterm Security Roundup discussed how threat actors combined familiar and new techniques to circumvent online protection measures by taking advantage of platforms available across internet of things (IoT) devices. Unfortunately, many organizations continue to use outdated software, citing how the costs of the downtime and modernizing security policies could result in losses and disruption. However, security is not all about patching and updating systems; everyone can help improve the organization's security. Here are several security measures across different levels that an organization can implement to improve security across different fronts.
Enterprise
Investments drive growth, and disruptions to business transactions and processes could result in economic losses. With the growing dependence on the internet to facilitate transactions and communication, securing industry assets and improving employee awareness can keep cybersecurity threats at bay. 
Use social media as a business multi-tool

 

– Social media turned the tide on traditional practices for businesses and users. Its ubiquity has turned social media platforms into valuable tools to capture the interest and attention of target audiences, but it also exposes users and organizations to

 

malicious campaigns

 

and

 

fake news. Familiarize yourself with the way your organization uses social media to reach customers to determine protective measures that you need to implement.
 [Related: Linking the enterprise to social media security]
Employees
It is no longer uncommon for employees to bring personal devices to the office for convenience or to help them with their tasks. This may pose risks as an additional entry point for attackers when IoT devices are insecure or left openly connected to the internet with default manufacturer-provided credentials. 
Secure your automated assistants

 

– IoT devices directly connected to the internet act as efficient tools for active professionals. However, attackers can exploit an unprotected or outdated device

 

in a number of ways. Patch your firmware and software versions regularly from legitimate vendors to remove exploitable vulnerabilities.
Become the first line of defense

 

– For cybercriminals to successfully launch fraudulent BEC campaigns, they not only spoof an individual in position to commit fraud, but also trick a person into performing financial transactions via social engineering. Defend against these strategies by verifying requests, links, and email addresses with those contacts before acting. 
Is your new device slowing down? Check for miners

 

– The continued rise in value of cryptocurrencies have made cybercriminals more

 

determined to mine more. Given the resources — and toll on hardware —required to mine them, crypto-miner malware degrades the performance of personal computers, mobiles, and, IoT devices, and can be designed to spread across different networks and systems. Scan your systems if you notice significantly degraded system performance for infection symptoms: process slowdowns, overheating hardware, or when the batteries are used up too fast.
 [Related: Best practices: Securing your mobile device]
Network Admins
Network admins act as the organization's frontline interveners. Make sure that the centralized platforms and systems are updated, the network can support the traffic necessary for internal and external functions and services, and storage assets' data and access to these are limited to the relevant personnel. 
Secure modernized systems that

 

protect us

 

– Modern automated and connected doors, alarms, and locks are now being used to protect enterprise and personal assets. Reconfiguring default settings can secure these mechanized security systems from common network attacks and hacking methods.
Review, reinforce and update your BYOD policy

 

– Prohibiting the use of personal mobile devices would almost be impossible for any business these days. But a single insecure device or unaware user is all an attacker needs to infiltrate a network. Maintaining a secure

 

BYOD

 

network in the workplace

 

decreases the attack surface

 

by separating the network used by personal devices from the one used for the organization's critical data and processes.   
[Related:

 

Securing IP surveillance cameras in the IoT ecosystem]
HIDE

Like it? Add this infographic to your site:
1. Click on the box below. 2. Press Ctrl+A to select all. 3. Press Ctrl+C to copy. 4. Paste the code into your page (Ctrl+V).
Image will appear the same size as you see above.