A Look at Linux: Threats, Risks, and Recommendations
Linux, which started as a personal project 30 years ago, is presently one of the most powerful operating systems dominating cloud platforms and servers around the world today. In fact, Linux usage has now exceeded that of Windows on Azure, Microsoft's own cloud platform.
Linux is also undeniably ubiquitous. According to the Linux Foundation's 2017 State of Linux Kernel Development Report, Linux ran on 90% of the public cloud workloads and nine of the top 10 public cloud providers. On top of these, Linux also ran on 82% of the world's smartphones and had a gargantuan market share of 99% on the supercomputer market.
Like any software, however, Linux is not free from security-related threats and risks. As enterprises migrate to the cloud and consequently, Linux, it comes as no surprise that cybercriminals would shift their focus and resources to target these environments — including their weak spots — for ill gain.
This article aims to discuss the Linux threat landscape and examine how Linux has become an attractive target for attackers, as well as how it can be prone to a variety of threats and risks. These include vulnerabilities, misconfigurations and security gaps, and malware. Aside from giving a high-level overview of the security issues and threats that affect Linux today, this article will also provide essential security recommendations to defend Linux environments against threats and help mitigate risks. 
Vulnerabilities remain prevalent in and on the Linux platform
One of the most common methods used by cybercriminals to gain initial access into an environment is the exploitation of a vulnerability in a publicly hosted service. The lack of both vulnerability management and tracking procedures, not to mention the absence of proper system patching processes, can leave systems highly exposed when a vulnerability is found and an exploit is published. Currently, it only takes a few days — sometimes even just hours — before someone figures out an exploit for a vulnerability. This concern is more critical for Linux as most of the code that runs on it is open-source, and the time and skills required to reverse-engineer a patch is possibly shorter than ever. 
Thousands of vulnerabilities plague different Linux distributions
It is important to consider not just the vulnerabilities in the platform itself, but also what is being run on the platform, since exploitability and exposure through either differ from one another. It should be noted, however, that the sheer number of vulnerabilities in a service or platform does not necessarily mean that these vulnerabilities automatically pose a substantial risk to those systems.
To get a better sense of the volume of vulnerabilities across various Linux distributions, we dissected the Common Vulnerabilities and Exposures (CVE) data from Red Hat, Ubuntu, Debian, Oracle Linux, and SUSE. The following graphs show the number of security advisories issued by each vendor for their respective Linux distribution.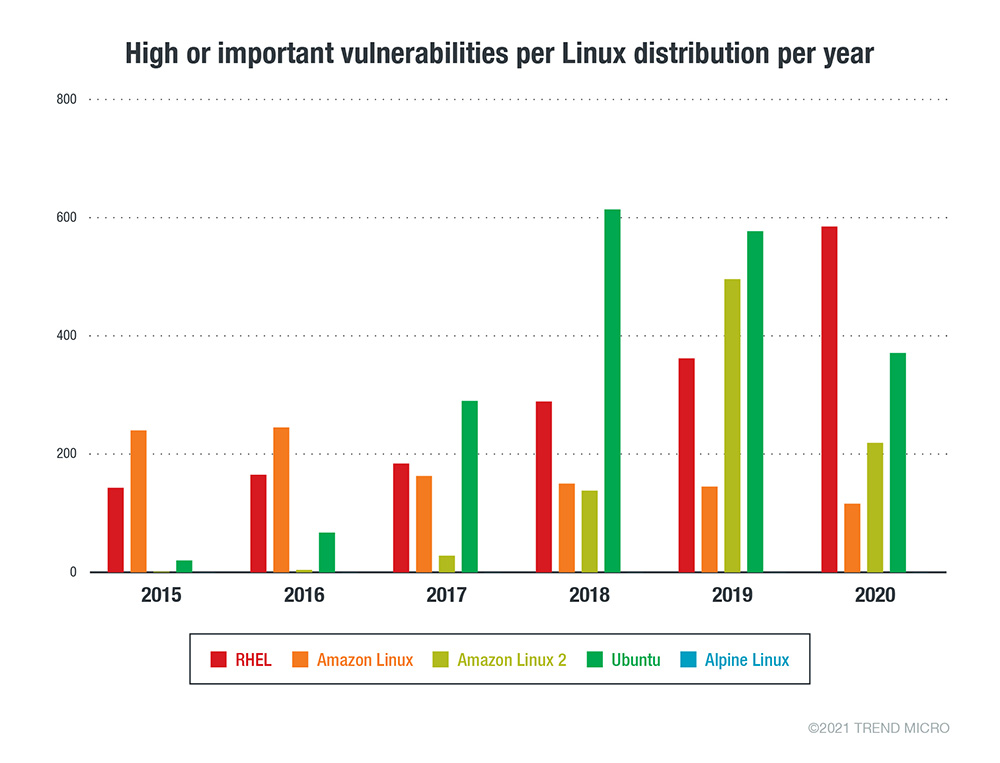 Figure 1. The number of Important/High security advisories issued per Linux vendor or distribution per year from January 1, 2015 to December 31, 2020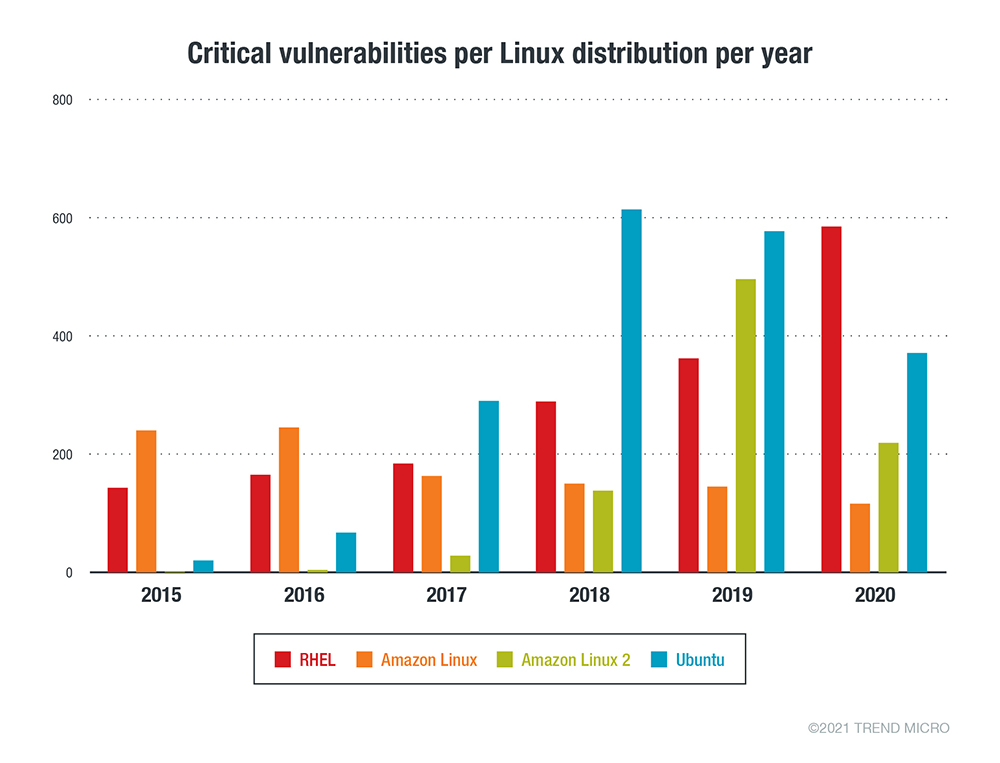 Figure 2. The number of Critical security advisories issued per Linux vendor or distribution per year from January 1, 2015 to December 31, 2020
Each Linux distribution vendor follows a different vulnerability-handling procedure. While patches from vendors come at varied times, upstream patches — whether original package or utility source — are the first to show up. Linux vendors are responsible for patching vulnerabilities in components such as the kernel, stock utilities, and packages. In 2019, Red Hat fixed over 1,000 CVEs on their Red Hat Enterprise Linux (RHEL) distribution, according to their Product Security Risk Report. That's more than 70% of the total number of vulnerabilities fixed across all their products.
Linux vulnerabilities lead to RCE, breaches, other critical security risks
Application Stack vulnerabilities
Vulnerabilities in the application stack were the reason behind several breaches in the past. For example, a well-known breach at Equifax was a result of the exploitation of a vulnerability in Apache Struts, known by the identifier CVE-2017-5638. The MITRE ATT&CK framework lists the "Exploit Public-Facing Application" for ID T1190 which is a common initial entry point for attackers that allows them to take advantage of flaws in internet-facing workloads. Some of the most popular vulnerabilities in this category are listed in the Open Web Application Security Project (OWASP) Top 10 and the Common Weakness Enumeration and SysAdmin, Audit, Network, and Security (CWE/SANS) Top 25 Most Dangerous Software Errors, which are both standard awareness references for developers and web application security practitioners. These documents represent a broad consensus of the most critical security risks to web applications, including vulnerabilities such as SQL injection, cross-site scripting (XSS), XML external entities (XXEs), and unsecure deserialization. Notably, web applications have become the initial point of entry on many of these attacks since they are the most exposed and are usually highly vulnerable.
Security recommendations for Linux systems
As enterprises operate and innovate at unprecedented speeds, Linux usage is bound to become even more pervasive than it is now. More significantly, as more users and high-value enterprises rely on Linux for their online infrastructures and systems, it is inevitable that cybercriminals will also increasingly target Linux environments for financial gain.
Here are a few security recommendations to keep Linux systems secure:
Trend Micro solutions
Trend Micro's comprehensive XDR solution applies the most effective expert analytics to the deep data sets collected from Trend Micro solutions across the enterprise, making faster connections to identify and stop attacks. Powerful artificial intelligence (AI) and expert security analytics correlate data from customer environments and Trend Micro's global threat intelligence to deliver fewer, higher-fidelity alerts, leading to better, early detection. One console with one source of prioritized, optimized alerts supported with guided investigation simplifies the steps to achieving a full understanding of the attack path and impact on the organization.
Cloud-specific security solutions such as Trend Micro Hybrid Cloud Security can help protect cloud-native systems and their various layers. Hybrid Cloud Security is powered by Trend Micro Cloud One™, a security services platform for cloud builders that provides automated protection for continuous integration and continuous delivery (CI/CD) pipelines and applications. It also helps identify and resolve security issues sooner and improve delivery time for DevOps teams. Cloud One includes:
HIDE
Like it? Add this infographic to your site:
1. Click on the box below. 2. Press Ctrl+A to select all. 3. Press Ctrl+C to copy. 4. Paste the code into your page (Ctrl+V).
Image will appear the same size as you see above.