By The Numbers: The Video Game Industry
While video games are one of today's most widely-accepted hobbies, it's also a multi-billion dollar industry that's only getting bigger.1 Newzoo, a games market research firm, pegs the compound annual growth rate of the global video game industry at 6.7%. At that rate, the industry is projected to earn more than $86.1 billion from a steadily growing gamer population that's expected to hit 1.55 billion players next year.
With that kind of money flying around, it's a given that cybercriminals would like to steal a slice of that pie. They did it to the online shopping industry and the mobile device industry after all. Any industry is fair game, so long as it earns money and if it's exploitable online. And from what we've seen, they've only just begun with video gaming.
Here are some of the numbers related to the growth of the video game industry: the market size, the market value, and the gaming-related threats that are coming along for the ride.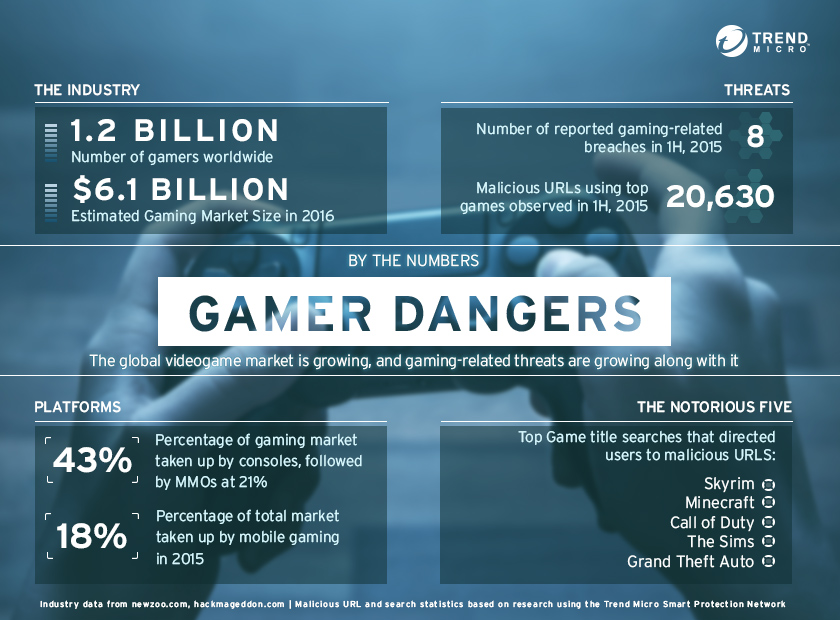 click to enlarge
HIDE
Like it? Add this infographic to your site:
1. Click on the box below. 2. Press Ctrl+A to select all. 3. Press Ctrl+C to copy. 4. Paste the code into your page (Ctrl+V).
Image will appear the same size as you see above.