Personalized Letter from Santa Claus Scam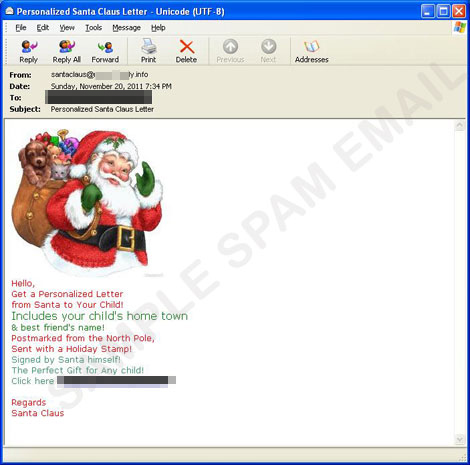 With the 2011 holidays just around the corner, holiday-themed spammed messages are also beginning to appear. Trend Micro researchers found a spammed message that claims to come from Santa Claus. It bears the subject, Personalized Letter from Santa Claus and encourages recipients to create their personalized Christmas letter by clicking on the link in the said message. Clicking the link redirects to a site different from the domain where the mail supposedly came from.

This tactic is done to promote the spammer's website, as well as to profit from these personalized letters, as this message instructs users to pay for the delivery of these letters. The spammed message also prompts recipients to disclose their addresses. As such, this information is stolen and may be used by cybercriminals for other malicious activities. Trend Micro recommends users not to click on links in messages, especially those from unknown sources. Users should also be discerning about sharing sensitive information online, especially with unfamiliar sites.
SPAM BLOCKING DATE / TIME:
November 21, 2011 GMT-8