On the Safe Side: Building Better Data Protection and Steering Clear of GDPR Violations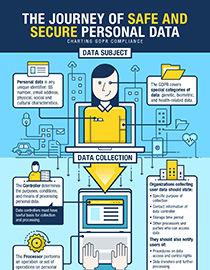 View Infographic: The Journey of Safe and Secure Personal Data
The General Data Protection Regulation (GDPR), adopted in April 2016 after four years of deliberations, is now in force. The regulation made headlines around the globe with its stricter data protection standards, substantial fines, and most of all, extensive reach. The GDPR affects any organization that holds an EU citizen's personal data, no matter the size or location. A company based in Asia is as accountable as a multinational enterprise with offices across Europe — as long as it collects and processes the data of EU citizens.
The regulation also delineated the data protection obligations of affected organizations — from adopting state-of-the-art security methods to providing people more access to and control of their data. Recognizing the sweeping changes required for compliance, the EU authorities granted member states and organizations two years to get ready and prepare. And today, the transition stage is over — the GDPR will now be enforced.
What happens now?
Enforcement means that organizations should already be processing personal data in accordance with the GDPR — including provisions for data subject rights. Data Protection Authorities (DPAs) of EU member states will also already be able to penalize organizations that are not compliant. Depending on the member state, it is possible that regulators will immediately take action to address any noncompliance. Some regulatory bodies, however, plan on being more lenient with businesses and organizations that have started but not yet completed their compliance efforts.
What is the worst-case scenario? An organization is liable for damages caused by noncompliance and is subject to corresponding administrative fines. The heftiest fine is 20,000,000 euros or up to 4 percent of annual turnover, whichever is higher.
What is the best-case scenario? If an organization is fully compliant with the GDPR, or uses the regulation as a starting-off point and goes beyond the minimum standards, then there are significant advantages. Some benefits would be: secured valuable information, more efficient operations with proper archiving and data management, and increased trust from customers and users.
While the GDPR applies to personal data of EU citizens, the GDPR has sparked a change in privacy regulations across the world. The 2018 enforcement allowed several countries to make their own legislative improvements — the U.K. and Australia are just two of a number of regions that have also updated their data protection laws. This only indicates that GDPR compliance is a good opportunity — not just for multinational enterprises but smaller organizations as well — to keep up with global advances in data privacy and state-of-the-art security.
What should organizations be doing?
Ideally, all the groundwork for compliance should have been finished by now, and items on the compliance checklist should have been ticked. Organizations should already be able to provide products or services that address their customers' rights as outlined in the GDPR. Those using third-party applications or suppliers should watch for updates concerning issues like the "right to be forgotten" and stricter user consent standards and make sure they are working properly. Several laws as well as software changes are also expected to be in effect starting today or in the coming months, and organizations should be ready for any necessary changes.
For those not yet fully compliant, some member state DPAs have reassured companies "acting in good faith" or on the way to compliance that they will initially be treated with consideration. It's crucial to document steps being taken as well as to prioritize addressing potential security risks.
Ready or not, the road to GDPR compliance does not end on enforcement day — assessments and audits should be regular moving forward.

Building better data protection
The GDPR was enforced to set a new standard for data privacy and protection. One key element to this is building in privacy measures from the first stages of development — not patching up problems after they occur. As organizations create new products and applications post-implementation day, privacy by design must be kept in mind.
Through its new rules and standards, the GDPR encourages organizations to rethink existing data management policies and invest in state-of-the-art security for data protection. To reiterate, compliance efforts should be constant after GDPR implementation day; staying up to date with cybersecurity developments plays a major part.
We created an infographic to demonstrate the path well-protected personal data takes — leaving the data subject's hands and on to an organization for secure processing. It also shows what happens if something goes wrong and what happens if everything goes right.
HIDE

Like it? Add this infographic to your site:
1. Click on the box below. 2. Press Ctrl+A to select all. 3. Press Ctrl+C to copy. 4. Paste the code into your page (Ctrl+V).
Image will appear the same size as you see above.