Are You Missing Out On Your Android Device?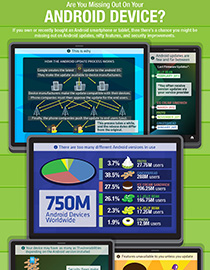 View infographic: Are You Missing Out On Your Android Device?
Two questions. Do you own an Android device? If so, are you updating it?
Many Android users don't really bother updating their OS. As long as they can perform basic functions like make calls, send messages, and install apps, they find no need for it. What they might not know is that those updates are critical.
If your Android device is running on outdated OS version, you're missing out on several useful features like face unlock, app verification, and malware protection. Another nifty feature like data usage monitor lets you track your Wi-Fi usage and other cellular data. This helps you keep tabs on the apps waste a lot of memory and battery life.
Outdated devices also have a number of security flaws that can only be fixed by these updates. Now, unfortunately, even if you wanted to keep your device up-to-date, you are only limited to the updates your device manufacturer and service provider decide to push your way.
It's called the Android fragmentation problem. When Google creates updates for their Android OS, they don't automatically show up on your smartphone or tablet. They still have to go through a long and tedious process that is much akin to a relay.
It starts when Google comes up with an update and passes on the baton to your device manufacturers. They, in turn, examine the update and see how they can tweak it to fit each model of their smartphones and tablets. Once they're done, they pass these modified updates on to your mobile service provider. It then becomes their responsibility to push those updates onto your device. The last leg of the relay is on you. You have the power to install that update and finish the process.
This of course takes too long, and Google is very much aware of that fact. To cut corners, the company's decided to push updates directly to core apps instead of rolling out OS upgrades. This measure takes away a chunk of the responsibility from both device manufacturers and service providers and places it on you.
Check out our infographic to know more on how the Android fragmentation problem directly affects your device. Don't miss out on the opportunity. Maximize the full potential of your Android device. Update regularly.
HIDE
Like it? Add this infographic to your site:
1. Click on the box below. 2. Press Ctrl+A to select all. 3. Press Ctrl+C to copy. 4. Paste the code into your page (Ctrl+V).
Image will appear the same size as you see above.