The Chinese Underground in 2013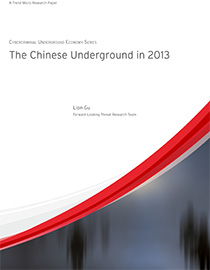 View research paper: The Chinese Underground in 2013
Places in the Internet where cybercriminals converge to sell and buy different products and services exist. Instead of creating their own attack tools from scratch, they can instead purchase what they need from peers who offer competitive prices. Like any other market, the laws of supply and demand dictate prices and feature offerings. But what's more interesting to note is that recently, prices have been going down.
Over the years, we have been keeping tabs on major developments in the cybercriminal underground in an effort to stay true to our mission—to make the world safe for the exchange of digital information. Constant monitoring of cybercriminal activities for years has allowed us to gather intelligence to characterize the more advanced markets we have seen so far and to come up with comprehensive lists of offerings in them.
The Thriving Cybercriminal Underground
The barriers to launching cybercrime have decreased. Toolkits are becoming more available and cheaper; some are even offered free of charge. Prices are lower and features are richer. Underground forums are thriving worldwide, particularly in Russia, China, and Brazil. These have become popular means to sell products and services to cybercriminals in the said countries. Cybercriminals are also making use of the Deep Web to sell products and services outside the indexed or searchable World Wide Web, making their online "shops" harder for law enforcement to find and take down.
All of these developments mean that the computing public is at risk of being victimized more than ever and must completely reconsider how big a part security should play in their everyday computing behaviors.
We have been continuously monitoring the Chinese underground market since 2011. And by the end of 2013, we have seen more than 1.4 million instant chat messages related to activities in the market from QQ™ Groups alone. This research paper reviews these millions of messages, along with trends observed and product and service price updates seen in the Chinese underground market throughout 2013.
HIDE
Like it? Add this infographic to your site:
1. Click on the box below. 2. Press Ctrl+A to select all. 3. Press Ctrl+C to copy. 4. Paste the code into your page (Ctrl+V).
Image will appear the same size as you see above.