How to Secure Smart Home IoT Devices, Routers, and Smart Speakers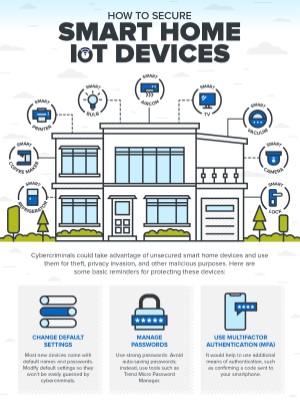 View Infographic: How to Secure Smart Home IoT Devices
A home is often considered a safe haven, a place for relaxation. But unfortunately, this is not the case with respect to cybersecurity. With the increase of remote work setups, people now spend much more time at home both for work and personal matters. This makes smart home internet of things (IoT) devices a prime target for cybercriminals.
Smart TVs, smart refrigerators, smart cameras, and other smart devices make life at home convenient, but if left unguarded, they can inadvertently expose homes to risks. Some of these dangers include theft and privacy invasion, especially when cybercriminals use smart home devices to enter a network and infiltrate other devices such as laptops and phones. Unsecure devices can also be exploited to threaten the physical safety of people, such as in the case of a compromised smart lock that can let intruders in, or a smart air conditioner that hackers can use to set extreme temperatures.
Thankfully, a little can go a long way in keeping home IoT devices secure. This infographic shows basic recommendations for securing these devices.
An extra layer of defense in addition to proper device configuration can also help secure IoT devices. Trend Micro™ Home Network Security blocks hacking attempts and web threats that can compromise a family's privacy.
HIDE

Like it? Add this infographic to your site:
1. Click on the box below. 2. Press Ctrl+A to select all. 3. Press Ctrl+C to copy. 4. Paste the code into your page (Ctrl+V).
Image will appear the same size as you see above.