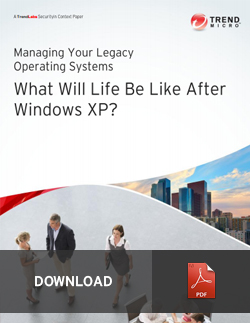 View primer: Managing Your Legacy Operating Systems

Microsoft has been supporting Windows® XP for over a decade but will stop doing so after April 8, 2014. Users will no longer receive security updates, nonsecurity hotfixes, free or paid assisted support options for Windows XP, or online technical content updates.

That's not the case here. Depending which source you use, Windows XP is still in use in at least 18%, to as much as 28%, of all PCs worldwide. Yes, hard as it is to imagine, somewhere around a fifth or fourth of all PC use an operating system that was released in 2001.

Problem is, at least 18% or as much as 28% of all PCs worldwide still use Windows XP, and these include both home and corporate users. Its users rely on the legacy system for familiarity and ease-of-use. Most would reason that, if it's working for them, why would they need to upgrade? More than that, many company systems are rooted on Windows XP and it's not all too easy to change that.

However, the looming end-of-support date means that both corporate systems that still run Windows XP may face serious consequences. Find out more as this paper discusses the technology threats, potential liabilities and compliance issues, and increased user computing costs enterprises may face if they continue to use the operating system (OS).




HIDE

Like it? Add this infographic to your site:
1. Click on the box below. 2. Press Ctrl+A to select all. 3. Press Ctrl+C to copy. 4. Paste the code into your page (Ctrl+V).

Image will appear the same size as you see above.