Prototype Nation: The Chinese Cybercriminal Underground in 2015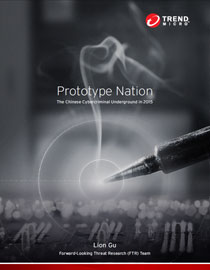 View Prototype Nation: The Chinese Cybercriminal Underground in 2015
By the end of 2013, the Chinese cybercrime underground was a very busy economy, with peddled wares that not only targeted PCs, but mobile devices as well—making it its most prolific segment. We also saw cybercriminals abusing popular Web services such as the instant-messaging app (IM), QQ, to communicate with peers.
Today, the Chinese underground is thriving more than ever. Previous explorations in the Chinese underground have indicated that cybercriminals are quick to adapt to technological advancements and existing trends as seen throughout 2015. Data (either leaked or stolen) are now being traded along with prototypes and new functional hardware, like point-of-sales (PoS) and automated teller machine (ATM) skimmers. As the Chinese underground continues to burgeon, we expect to see more cybercriminal activity using these new market offerings:
Leaked data search engines and other offerings
Data leaked in the underground allows cybercriminals to commit various crimes like financial fraud, identity and intellectual property theft, espionage, and extortion. Chinese cybercriminals have managed to enhance the way they share data as seen in the case of SheYun, a search engine created specifically to make leaked data to users available.
Over the last few years, we have been keeping track of the shift of prices of goods and services traded in the Chinese underground. Previously, we saw compromised hosts, DDoS attack tools services, and remote access Trojans (RATs) being sold. Today, social engineering tools have been added to the market.
Carding devices
Cash transactions are slowly becoming a thing of the past, as evidenced by the adoption of electronic and mobile payment means.
PoS skimmers - Tampered PoS devices are sold to resellers who may or may not know that these devices are rigged. Some PoS skimmers come with an SMS-notification feature that allows the cybercriminal to access the stolen data remotely every time the device is used.
ATM skimmers –Commonly sold on B2B websites, these fraud-enabling devices allowed fraudsters to carry out bank fraud and actual theft. The devices have keypad overlays that are used to steal victims' PINs.
Pocket skimmers – These small, unnoticeable magnetic card readers can store track data of up to 2,048 payment cards. They do not need to be physically connected to a computer or a power supply to work. All captured data can be downloaded onto a connected computer.
Our paper, Prototype Nation: The Chinese Cybercriminal Underground in 2015 provides a closer look into the country's underground market and how it has kept up with events in the real world.
HIDE
Like it? Add this infographic to your site:
1. Click on the box below. 2. Press Ctrl+A to select all. 3. Press Ctrl+C to copy. 4. Paste the code into your page (Ctrl+V).
Image will appear the same size as you see above.