ISO/SAE 21434: Securing Tomorrow's Connected Cars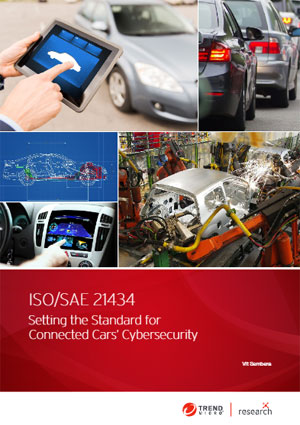 Download Setting the Standard for Connected Cars' Cybersecurity
The upcoming standard sets the tone for future mandates on the cybersecurity of cars.
ISO/SAE 21434 is a standard that provides cybersecurity engineering guidelines for all processes across different phases of a vehicle's lifecycle.
The overall and sectional structures in this paper have been updated according to the published version of ISO-SAE 21434 as of August 2021.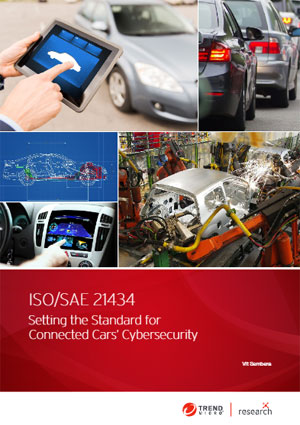 Download ISO/SAE 21434: Setting the Standard for Connected Cars' Cybersecurity to read the updates on the sectional structure and details on the new standard, along with Trend Micro's insights and recommendations.

The functions and usage of today's automobiles are changing as connectivity drives the demand for more modern features, and the automotive industry has been continuously developing and releasing new features to meet this demand. Among a number of modern features, today's cars feature systems that connect to other vehicles, mobile devices, traffic infrastructure, and cloud systems for different purposes such as:
Traffic and pedestrians'
safety monitoring
Vehicle remote management and monitoring
These new features and systems require an increased dependence on software. While modern features, such as internet access, app-based remote monitoring and management, autonomous driving, and driver-assistance systems, were designed to increase user safety and convenience, they also add complexities and cybersecurity gaps to the whole automotive ecosystem.
For instance, every added feature, sensor, or connection needs to be supported by software in an engine control unit (ECU). The number of ECUs included in connected cars has increased over time, with some having more than 100 ECUs handling different functions, from the engine and powertrain to the brakes, suspension, and electronics subsystems.
Modern connected cars now share networks with mobile devices and have features that have more in common with computers than traditional automobiles. Unfortunately, the increased demand for connectivity — and the rapid pace of development to meet it — inevitably increases the number of exposed and vulnerable components.
Projected Compound Annual Growth Rate (CAGR) of Automotive ECUs Market Report
Market Size
$65
billion
2017
Market Size
$95
billion
2018-2024 Projections
Unlike computers, the majority of the connected cars currently in the market do not have over-the-air (OTA) software updates, nor were they designed or manufactured with cybersecurity in mind. This is a critical gap that the industry plans to secure.
Since 2018, over 80 organizations worldwide have participated in the creation of ISO/SAE 21434 "Road vehicles – Cybersecurity engineering," which is a standard that includes a set of guidelines for securing high-level processes in the design, manufacturing, maintenance, and end-of-life phases of vehicles. While it does not focus on software development or detailing the cybersecurity infrastructure of car subsystems, it defines cybersecurity processes for the cars' different development phases to fulfill safety level requirements.
Researchers have found a significant number of attack vectors in today's connected cars. These modern vehicles are connected whenever they are within the range of a cellular network or via short-range radio frequency channels, much like how Bluetooth or Wi-Fi are usually enabled. Cybercriminals can abuse these existing and unpatched security gaps to intercept and steal information, disrupt the car's normal functions, or even attack the users and endanger their lives.
Some of the current challenges and attack vectors include:
Addressing and mitigating vulnerabilities: The industry follows a highly tiered supply chain system. When a vulnerability in any component is discovered, all the tiers involved would have to release a fix until it reaches the original equipment manufacturer (OEM). These fixes also have to be checked for interoperability, implying that all ECUs' firmware would have to be updated. Not only does this lead to update deployment delays, but a vehicle software update can also take up to 20 hours to complete.

OEM

Tier 1: Module or system supplier

Tier 2: Component supplier

Tier 3: Parts supplier
Unsecure ECU interconnection protocols: Some of the protocols used for ECU interconnections were not designed to include cybersecurity features. For example, data transfers are not encrypted, and senders and receivers are unauthenticated.
Unsecure aftermarket products and services: Internet of vehicles (IoV) devices installed in cars, such as Bluetooth or Wi-Fi-capable multimedia devices, are readily available for purchase and installation. However, most of these devices run on unsecured or outdated firmware, making it possible for attackers to exploit the unpatched systems for entry and move laterally to send malicious codes to the vehicle's systems.

Furthermore, some unofficial garage shops can modify the ECU to increase engine power. Tampering with the software — despite the existence of current industry standard procedures to protect the diagnostic software — can expose a number of vulnerabilities during and post-code modifications.
Researchers have published numerous findings documenting the techniques used to exploit security weaknesses and possible attack scenarios against connected cars such as:
Controller area network (CAN) bus
Wireless network protocols
The automotive industry is beginning to recognize the narrowing delineation of defenses required in the face of information technology (IT) and in-vehicle technology. And in realizing cybersecurity's critical importance in connected cars and its related infrastructure, legislative changes could be expected after the implementation of the standard. ISO/SAE 21434 is meant to guide the automotive industry as it adopts more secure online and offline practices to ensure the safety of its users.
HIDE
Like it? Add this infographic to your site:
1. Click on the box below. 2. Press Ctrl+A to select all. 3. Press Ctrl+C to copy. 4. Paste the code into your page (Ctrl+V).
Image will appear the same size as you see above.