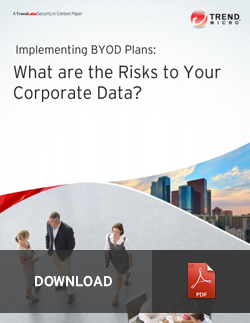 Download the full research paper: Implementing BYOD Plans: What are the Risks to Your Corporate Data

Enterprises cite security as their number one concern with regard to consumerization.

During the actual execution of a consumerization strategy, however, IT groups find that the increasing demand to use employee-owned devices for work is forcing security to compete with other equally important activities.

A number of factors contribute to the diminished regard for security:

Lack of awareness: IT groups may not be aware of the number of mobile devices that are connecting to their networks. A survey estimated that 69% of employees used smartphones for work while their respective IT groups said 34% did so.

Increased workload: Unlike company-issued laptops, employees' smartphones require more from IT groups because IT administrators need to treat and configure each device and operating system version differently. As a result, IT groups may only enforce minimal security.

Technical support prioritization: Device-carrying employees demand that IT groups make their devices work, forcing IT groups to deprioritize security in favor of providing technical support.

Mobile OS updating difficulty: IT groups' jobs are not made easier by the open nature of the Android™ OS and mobile OS providers' weak vulnerability handling and remediation processes. Waiting for patches can take weeks; fully deploying those takes even longer. Knee-jerk mobile device management (MDM) solution purchases: IT groups may be tempted to buy an MDM solution that may be inappropriate to their specific environments and can negatively impact their security.

Informal adoption: In some cases, enterprises may informally encourage the BYOD trend to please their employees. They may, however, not have written usage guidelines or implemented best practices.

The introduction of employee-owned devices to workplaces has been acknowledged in order to increase employee productivity and satisfaction, business agility, and provable cost savings. Risks to security and data should, however, also be closely examined.

Find out more on this paper.

HIDE

Like it? Add this infographic to your site:
1. Click on the box below. 2. Press Ctrl+A to select all. 3. Press Ctrl+C to copy. 4. Paste the code into your page (Ctrl+V).

Image will appear the same size as you see above.