Staying Safe from IRS Scammers and Tax Fraud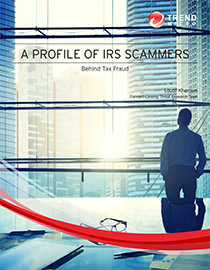 View research paper: A Profile of IRS Scammers Behind Tax Fraud
Over the years, attackers have come up with various clever tactics to deceive users into giving them their credentials, money, and even their identity. But during tax season, cybercriminals pin their targets down by posing as fake IRS agents. These scammers call up potential victims and demand payment for back taxes. According to previous reports, victims were conned out of $15.5 million since 2013.
IRS scams typically begin with attackers sending plenty of scam emails to potential victims in the middle of—and even after—tax-filing season. The emails propagate malware by asking the user to open a malicious attachment or click on a link that leads to the download of the infected file. The malware, normally a Trojan spyware, RAT, or banking Trojan, enables the attacker to steal personal identifiable information (PII), and infiltrate their financial accounts.
In line with the tax-filing season, Trend Micro was able to identify three possible IRS tax scammers— two individuals and a hacking group who call themselves ISA Hackers. Findings suggest that the two individuals, AyoolaD and MahmoudD are somewhat connected.
With IRS scams on the rise, it's important for taxpayers to be aware of the threats that surround this issue. Knowing how the IRS works, as well as the techniques that cybercriminals use to trick people into giving away their credentials and hard-earned money, can help prevent being a victim. Of course, one should also be sensible enough to ignore and report social engineering tactics such as suspicious phone calls.
Learn more about how IRS scams work, and the profile of those behind tax fraud in the research paper A Profile of IRS Scammers Behind Tax Fraud.
HIDE
Like it? Add this infographic to your site:
1. Click on the box below. 2. Press Ctrl+A to select all. 3. Press Ctrl+C to copy. 4. Paste the code into your page (Ctrl+V).
Image will appear the same size as you see above.