Operation Arid Viper: Bypassing the Iron Dome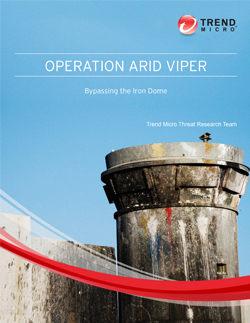 View research paper
In this Trend Micro research paper, we unearthed two different operations with strong Arab ties possibly located in the Gaza Strip. The first operation, Operation Arid Viper, is responsible for highly targeted cyber attack against five Israeli-based organizations (government, transport/ infrastructure, military, academia, and transport) and one organization based in Kuwait. The threat actors behind this operation have shown the capability to employ sophisticated attacks on key individuals with the goal of exfiltrating sensitive and confidential data, and it is believed that the operation has been ongoing since mid-2013. 
While monitoring the C&C infrastructure (hosted in Germany) it connects to, our researchers found another operation, Advtravel led by Egyptian hackers. Our investigation reveals that these Egyptian hackers seem to be particularly interested in the images stored in its victim's machine. We can surmise that they are looking for incriminating or compromising images for blackmail purposes. Unlike the threat actors of Operation Arid Viper, the motivation of the group behind operation Advtravel is neither financial nor espionage-related. Interestingly, when we checked advtravel[dot]info, the attacker has left the directory structure of the server completely open to the public. This leads us to believe that the attackers behind Advtravel have less technical knowledge and is attacking other Egyptians in less purposeful attacks.
Infection Chains for Operation Arid Viper and Advtravel
A spear phishing email was used as a delivery mechanism by Operation Arid Viper that contained an email attachment. The said attachment has a .RAR file that automatically extracts an .SCR file that drops two files when executed.
The first file is a pornographic video clip, which serves as a social engineering bait while the second file is the actual malware connecting to the C&C servers. Once the second-stage malware is in the system, it sets itself to autorun each time the systems reboot, even posing as an Internet communication software. In addition, the other C&C servers have been hosted in IP addresses (188[dot]40[dot]75[dot]132 and 188[dot]40[dot]106[dot]84) in Hetzner, Germany. Our findings showed that this IP 188[dot]40[dot]75[dot]132, is related to operation Advtravel.
Although the malware involved in operation Advtravel is different from that of Operation Arid Viper, both operations still have a few similarities, such as sharing the same server and having the domains used in Advtravel registered with the same emails as the Operation Arid Viper. Notably, the same server and site registration details suggest the existence of a supra-organization, a forum or an influential sponsor could be providing various hacking groups with the means to pursue their ends.
Aside from the technical details of both campaigns and its targets, the research paper Operation Arid Viper: Bypassing the Iron Dome also discusses the attribution or details on certain individuals that seem to be tied to these campaigns.
[Read: Arid Viper: Gaza vs Israel Cyber Conflict ]
HIDE
Like it? Add this infographic to your site:
1. Click on the box below. 2. Press Ctrl+A to select all. 3. Press Ctrl+C to copy. 4. Paste the code into your page (Ctrl+V).
Image will appear the same size as you see above.