Keeping Digital Assets Safe: The Need for Data Classification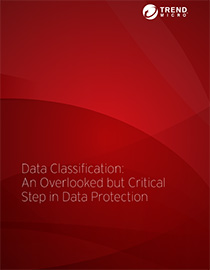 View primer: Data Classification: An Overlooked but Critical Step in Data Protection
Cloud-based solutions for data storage and communications are only some of the advantages offered by virtual platforms, which is why companies are increasingly moving to the cloud. Moving to cloud-based data processing allows companies to foster control over data and network segments, especially now that data loss is a top concern for all companies.
Data breaches, for instance, have been testing countless companies' response procedures. The first half of 2016 saw two high-profile data breach incidents make the news. The breach of the Panamanian law firm Mossack Fonseca exposed information on the offshore holdings of political leaders and known criminals alike. Known as the Panama Papers leak, the incident raised a number of conversations on breach impact concerns and financial regulations.
The other notable incident involved a breach bigger than the Office of the Personnel Management (OPM) hack of 20 million US citizens' personally identifiable information (PII). The leak of the entire database of the Philippines' Commission on Elections (COMELEC) is touted to be one of the largest ever government data breaches, exposing 55 million Philippine voters to identity fraud and other forms of cybercrime. Following the breach, the trove of stolen information was made available online, comprising of registered voters' sensitive information that included passport numbers and fingerprint records.
The magnitude of these events stresses the need to make data management a priority. Traditional security countermeasures simply won't cut it. The ever-evolving security landscape demands data protection policies that can adapt to the current and emerging threats.
Developing and implementing an effective data security strategy is no easy feat. However, there is a simple but often neglected security component—data classification. Data classification organizes data into categories to differentiate low-value from high-value information. Knowing the level of importance of the different data aids the organization in assessing which data needs more protection, as they could cause greater damage in the event of a breach.
Even so, considering and categorizing the nature of the data (public, internal, or confidential) isn't enough. Employees are essential for data protection to work. Users should be aware of their role and responsibility concerning data stewardship—understanding the value of the data and handling it according to compliance regulations and other security challenges.
Learn more about how data classification works and the risk effective data protection mechanisms for today's threats in our primer, Data Classification in Hybrid Clouds: An Overlooked but Critical Step in Data Protection.
HIDE
Like it? Add this infographic to your site:
1. Click on the box below. 2. Press Ctrl+A to select all. 3. Press Ctrl+C to copy. 4. Paste the code into your page (Ctrl+V).
Image will appear the same size as you see above.