Risk Management
Guide to Operationalizing Zero Trust
Zero Trust is no longer a buzzword but an essential element in enterprise security architecture. Operating on the 'never trust, always verify' principle, Zero Trust plays a vital role in protecting enterprise assets and data. However, operationalizing Zero Trust can be challenging for businesses.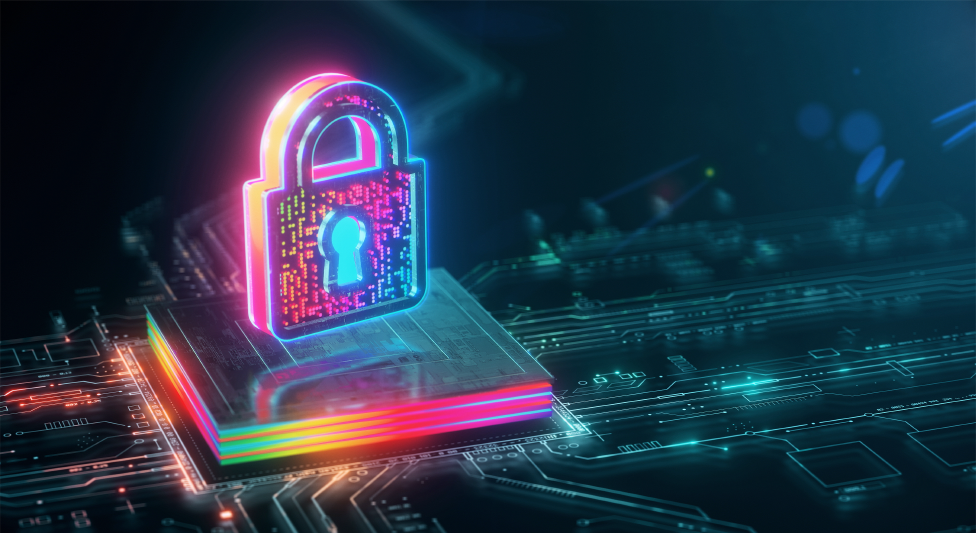 ---
In a world where the traditional perimeter-based security model no longer suffices, embracing Zero Trust is not just a strategic decision—it's imperative to ensure the integrity and confidentiality of your organisation's sensitive data and drive business continuity in an increasingly interconnected ecosystem. Yet, operationalizing Zero Trust can be challenging.
Operationalizing vs. Implementing Zero Trust
The terms "operationalizing" and "implementing" in the context of Zero Trust—or any other framework or model—are often used interchangeably, but there is a nuanced difference between them.
 This involves understanding the principles, planning the transition, selecting the right technologies and solutions, and configuring them to establish the infrastructure required. It can significantly change existing systems, infrastructure, and potentially organisational culture.
 This means integrating it into the organisation's daily operations. It involves educating and training the workforce about the new security practises, continuously monitoring and improving the system, and adjusting policies and processes based on feedback and changing business needs. Operationalizing Zero Trust is about making it a part of the regular rhythm of business, ensuring it functions smoothly and that the organisation realises its benefits sustainably.
While implementation is about getting the Zero Trust architecture set up and ready, operationalizing is about making it an integral part of your organisation's ongoing operations and culture. Both are essential to achieving a mature and effective Zero Trust security posture.
Essential Steps in Operationalizing Zero Trust
It's important first to evaluate the organisation's cybersecurity maturity to identify strengths and weaknesses in your security infrastructure. Next, discover your organisation's attack surface, including all potential points of entry for cybercriminals. Lastly, assess your organisational risk to understand the potential threats and their impacts.
Once you clearly understand your cybersecurity maturity, attack surface, and risk profile, you can develop a roadmap for operationalizing Zero Trust that includes milestones, technology investments, workforce training, and a timeline for implementation. It's also essential to enable and protect the hybrid workforce with strong authentication measures, secure access policies, and enforcing least privilege access.
Centrally managing and monitoring security controls and extending visibility across enterprise assets can help with quicker threat detection and informed decision-making. Additionally, it's essential that you secure cyber insurance coverage and consolidate security tools and platforms where possible to reduce costs, simplify management, and alleviate strain on IT resources. The better you can show you have visibility and control of your environment, the more possible discounts with cyber insurance companies.
Following these steps, you can successfully operationalise Zero Trust and benefit from improved security, risk management, and business resilience.
Achieving Operational Excellence Through Consolidation
To achieve operational excellence, consolidate. Look at the diagram below to see how Trend Vision One™ can operationalise Zero Trust. This approach aligns with industry frameworks like NIST and benefits customers. By using XDR with sensors across various domains or third-party integrations, customers can define their attack surface, monitor and detect potential threats, and benefit from our global threat intel engine. Data is fed into Trend Vision One , where customers can analyse and assess risk in real-time, generating risk scores that verify every entity's identity for authentication and authorisation purposes.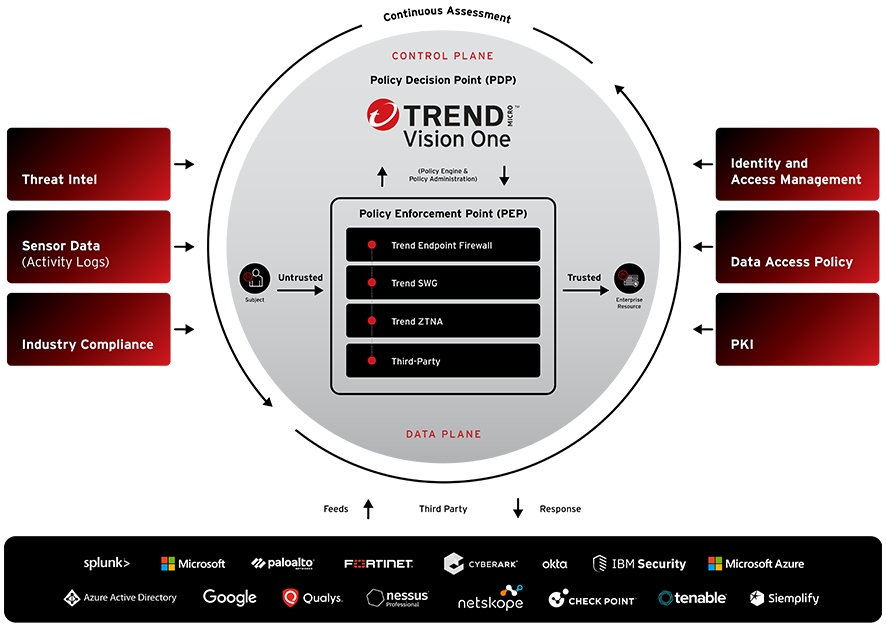 Sample integration partners. Full list here: https://www.trendmicro.com/en_us/partners/alliance-partners/explore-alliance-partners.html
Customers can use Vision One to make risk-informed access control decisions through our native Zero Trust Network Access, or third-party policy enforcement points. Additionally, customers can monitor, manage, adjust, and execute dynamic data-driven security controls, all in a single console. These steps are not only important for operationalizing zero trust, but they also represent various stages of zero trust maturity. With Vision One, customers can pinpoint every entity, assess every risk, and centralise and automate every action, no matter which stage they are at in their Zero Trust journey or what other security solutions they are using.
Zero trust strategies incorporate best practises from a range of security frameworks, such as NIST, CISA, and ISO. Trend Vision One makes it easy for security teams to align to best practises and offers coverage from prevention to extended detection and response across all pillars of zero trust.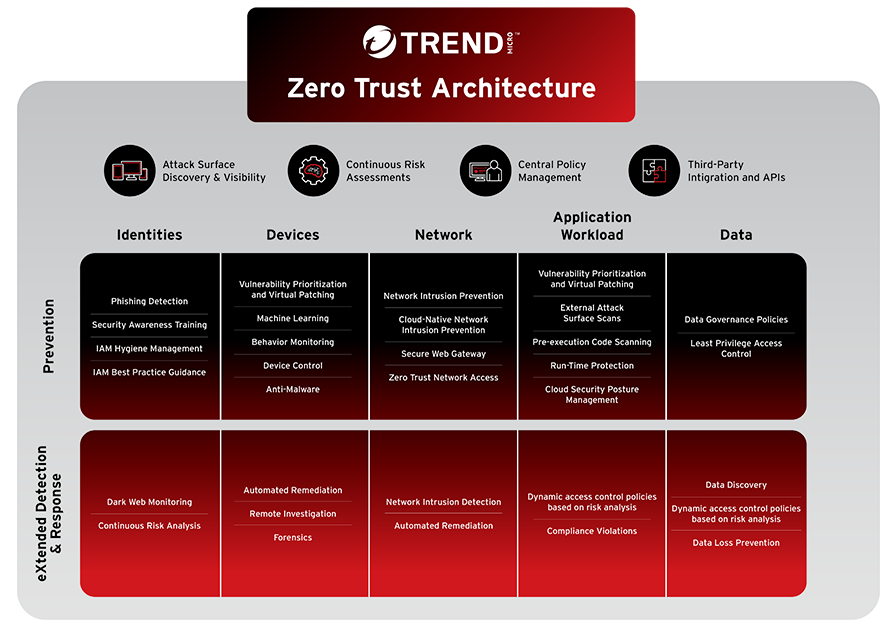 Overcoming barriers
Operationalizing Zero Trust presents several technological challenges, including integrating legacy systems not designed for Zero Trust, navigating the complexity of implementation, and ensuring cohesive integration between security technologies.
Financially, the transition can involve high initial costs and ongoing maintenance, updates, and training expenses. Human challenges such as employee resistance to change, lack of understanding or training, and increased security responsibility can also slow adoption.
Despite this, the benefits of Zero Trust—particularly in terms of improved security and risk management—often make it a worthwhile investment. Interoperability with SWG, CASB, and ZTNA and includes Attack Surface Management and XDR within a single platform, for example, can reduce the burden on IT teams and provide a single source of truth for risk assessment within your current security stack, including third-party integrations and APIs.
Careful planning, securing buy-in from key stakeholders, providing adequate training, and investing in compatible technologies can help you successfully navigate these challenges and operationalise Zero Trust effectively.
Risk management strategies and planning
To ensure a successful transition to a Zero Trust architecture, you can employ several risk management strategies and planning methods. These strategies include assessing legacy systems, investing in interoperable solutions, and taking a phased implementation approach.
Financial mitigation strategies include conducting a cost-benefit analysis and planning for Zero Trust transition costs in your IT budget. In addition, address the human element by engaging your stakeholders through training and education programmes and fostering a security-conscious culture.
Monitoring and Improving Zero Trust Over Time
Tracking key performance indicators (KPIs) and metrics is crucial to assess the efficacy of your Zero Trust security approach.
Here are some critical metrics that demand your attention: Mean Time to Detect (MTTD), Mean Time to Respond (MTTR), Incident Rate, Access Control Compliance, User Behaviour Anomalies, Authentication Failures, Privilege Escalation Incidents, Patch Management Compliance, Employee Training Compliance, and User Satisfaction.
By monitoring these metrics, you can make data-driven decisions and adjust your strategy to ensure your Zero Trust model is effective and continually improving.
Building a Business Case for Zero Trust
Zero Trust assumes all users, devices, and applications pose a potential threat unless proven otherwise. This multi-dimensional approach to cybersecurity ensures a more robust defence by treating each access request as a potential threat, helping you mitigate risks, decrease the attack surface, and prevent unauthorised access.
As cyber threats continue to escalate, incorporating Zero Trust measures is an effective way to enhance business objectives and bolster digital transformation endeavours. Zero Trust eliminates the traditional network perimeter, enabling seamless and secure remote work. Additionally, it facilitates fast cloud adoption and the secure integration of IoT devices, enhancing operations and customer experiences.
By aligning with Zero Trust best practises, organisations can accelerate their cybersecurity maturity and build a stronger and more resilient security posture. This approach effectively closes security gaps and proactively meets regulatory and compliance requirements such as GDPR, HIPAA, or PCI-DSS, ultimately leading to a more secure and robust digital environment and demonstrating to customers, partners, shareholders and insurers that your organisation is well-prepared to manage cyber risk.
Trend Vision One is also interoperable with SWG, CASB, and ZTNA and includes Attack Surface Management and XDR within a single console.
Regardless of where you are in your Zero Trust journey, Trend Micro's broad and constantly growing relationships with IAM, firewall, BAS, and SIEM/SOAR vendors provide a single source of truth for risk assessment within your current security stack, including third-party integrations and APIs. In-app guidance, education, and intuitive UI experience are built in to help you operationalise Zero Trust in your environment.
Conclusion
The benefits of operationalizing Zero Trust are far-reaching – from bolstering cybersecurity defences to enhancing productivity. As a CISO, it is essential to spearhead this shift by fostering a culture of security and making strategic decisions.
Partnering with an experienced solution provider like Trend Micro can significantly support this endeavour by providing robust security solutions that integrate seamlessly with Zero Trust architecture. This ensures that Zero Trust becomes a core component of operational resilience and business success.
Authors