Cloud Native
Top 5 Cloud Security Trends from AWS re:Inforce 2022
With the industry changing so rapidly, it is often hard to keep up with what is new in cloud security, so we thought we would put together a list of the top five cloud security trends we found during AWS re:Inforce 2022.
---
Top 5 Cloud Security Innovation Trends from AWS re:Inforce 2022
In-person trade show events are back, and what a perfect way to get a read on what the latest and greatest trends being discussed in the industry are. AWS re:Inforce 2022 brought together leaders of the industry with Amazon Chief Security Officer Stephen Schmidt, AWS Vice President and Chief Information Security Officer CJ Moses, and Vice President of AWS Platform Kurt Kufeld, driving the discussion on the latest innovations in cloud security. For those of you that couldn't attend and want to be in the loop, or for those that did and just want a refresher, here are the top five cloud security trends we noted during the show.
The event kicked off with a keynote from Schmidt, who shared the importance of seamless integration of security into cloud activities. "You must not bolt on security after you build something. It has to be in from the very beginning of when we build things."
AWS itself launched many new security solutions and capabilities along with enhancements to its partner program during the event, and many security partners followed suit with announcements of new cloud security capability improvements. This all contributes towards the common goal of making the cloud more secure. An important task, as "every single month, we track quadrillions of events, that's a number that has 15 zeros," stated Schmidt during his keynote. "So we're not reliant on the expertise of AWS security alone, we're relying on the security interests, focus, and creativity of millions of customers as well." It is a responsibility that the whole industry, from cloud providers to software vendors to customers, share to work together and make the cloud as secure as possible.
Ed Martinez, chief information security officer at ADEC Innovations, shared his thoughts on what he was most excited to learn as a customer attending the event, stating "it is all about the innovation," and that he was looking forward to learning all about the new technologies coming, along with how these may impact their cloud environments. Check out the full video below of Martinez's conversation with Trend Micro's Chief Technology Strategy Officer David Chow.
ADEC Innovation CISO, Ed Martinez's & Trend Micro's Chief Technology Strategy Officer David Chow
With the industry changing so rapidly, it is often hard to keep up with what is new in cloud security, so we thought we would put together a list of the top five cloud security trends we found during AWS re:Inforce 2022.
1. Cloud-Native Application Protection Platform (CNAPP)
Let's start with a big one: CNAPP. As you can hear in this video with our Vice President of Cloud Technology Mike Milner, there was a lot of buzz around this term, as the industry recognises that in today's world a platform is critical for effective cloud security.
Top themes during AWS re:Inforce
With so many security tools out there, any way to consolidate them can help simplify your security landscape, helping development, DevOps, cloud, and security teams work together and see the big picture. A CNAPP helps bring cohesion from siloed point solutions such as a cloud workload protection platforms (CWPP) and cloud security posture management (CSPM) by consolidating many of the crucial features needed to effectively protect cloud environments and infrastructure into one platform. At a high level, these capabilities include artefact scanning, runtime protection, and cloud configuration.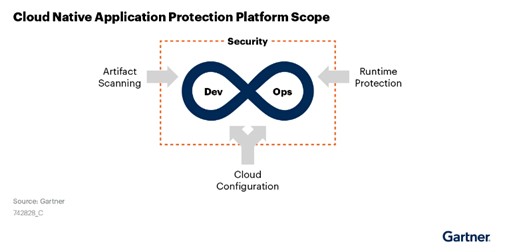 A CNAPP can have many benefits if employed in your cloud environment, including:
Increased perspective and better context of your cloud environment enables you to hunt, detect, investigate, and respond faster to threats.

Consolidated security information allows you to see risks from across your cloud infrastructure and applications in a single compliance-aligned dashboard, leading to improved security posture.

Allowing developers to focus on what they do best: developing. By baking security directly into each stage of the software development lifecycle, detections are quick and automated, resulting in applications naturally being developed securely.

Helping to bridge the communication chasm between security and development teams via bidirectional feedback with combined insights from development and production environments, ultimately minimising the risk of misconfigurations in application releases.
If you are ready to dive in and learn more about this emerging cloud security trend, and the value of integrating cloud-native application protection into security and development, read the Solving the cloud-native app puzzle with CNAPP report here.
2. Reducing Friction via Cloud Security Tools Deployment Innovations
Needless to say, to be effective, security needs to be deployed. Any friction during deployment causing developers to be slowed down will severely decrease its effectiveness and may cause it to not be used at all, leaving your cloud environment vulnerable. This has led to a noticeable trend for new security models that supported frictionless deployment allowing for a streamlined set up. By shifting the burden of security infrastructure away from the organisation and onto the security provider, teams are freed up to focus on running their business and applications rather than maintaining the security infrastructure. Hear a little bit about how we are innovating our cloud network security solution with this trend in mind from Janani Rajendiran, project manager at Trend Micro:
Trend Micro's new Network Security deployment model
3. AWS GuardDuty Malware Protection
A big announcement at AWS re:Inforce was the launch of AWS's latest threat detection tool: Amazon GuardDuty Malware Protection. This innovation addresses the ever-present struggle organisations are having to securely manage their cloud assets. Enhanced malware detection, natively built-in to the cloud to complement third-party tools, will help bridge the security challenges stemming from a lack of visibility and insights into cloud environments.
Amazon GuardDuty Malware Protection is an innovation of the previously existing Amazon GuardDuty tool, allowing it to now detect the malware that is the root cause of the compromise, in addition to identifying the resources that are at risk, or have been compromised by malware. Below is a brief video from one of our cloud advocates, Laura Roantree, in reaction to the release. To dig deeper into this topic, and find out how Trend Micro layers perfectly with this new development of AWS, check out our blog on the release here.
AWS GuardDuty Malware Protection and Trend Micro, better together
4. AWS Partner Innovations
AWS released quite a few new features that will help you as a consumer evaluate and know which cloud security vendor to trust. AWS established the AWS Competency Program to help customers identify and validate the AWS Partners with deep industry experience and expertise that are equipped to provide them with the best solution or service for their needs. The competencies highlight which providers have strong capabilities in specialised areas across industries, use cases, and workloads. AWS continues to release new competencies, including a security competency which was released during AWS re:Inforce. To learn more, here is a video by our Technical Product Marketer Sterling Davis:
Trend Micro receives the AWS Security Competency
Another feature revealed during the show around this topic of helping the consumer know who to trust is AWS Marketplace Vendor Insights for third-party software. This can save you countless hours simplifying third-party software risk assessments by consolidating security and compliance information in a single dashboard. The compiled insights include data privacy and residency, application security, and access control. Trend Micro had the privilege of being a launch partner for this feature. Hear more from our Vice President of Cloud Product Management Bryan Webster:
Insights on the announcement of AWS Vendor Insights
5. Endless Innovation on the Road to re:Invent
With all that was unveiled during AWS re:Inforce from both AWS and cloud security vendors in attendance, questions and speculation on what innovations AWS re:Invent will bring to the cloud landscape are rippling across the industry. We can, of course, expect to see the trending topics expand beyond security into the whole cloud computing industry as the scope of the conference expands.
Our guess is we will see increasing importance being placed on security simplification through tool consolidation and managed services, building on the trends we are seeing today. The demand on developers and security teams continues to expand with organisations' adoption and use of the cloud ramping up at increasing rates. However, the skills gap continues to be a pressing industry challenge, requiring organisations to look for other strategies to optimise operations.
With the increasing number of applications being built native to the cloud, CNAPP will be a hot topic, perfectly aligning with the needs of today's and tomorrow's cloud builders. By automating and integrating security into the software development pipeline, and correlating security insights from across the cloud environment into a single dashboard, both the development and security teams will benefit in numerous ways including time saved.
We also expect to see more ways that AWS is working with their third-party software partners to better align and serve the needs of their customers. Countless hours have already been saved from the AWS Partner innovations shared at re:Inforce, which will most likely be just a taste of what we can expect to come at re:Invent. All in all, the future is looking bright as both the cloud providers, and software providers continue to listen and innovate to solve the challenges facing organisations in the cloud.
So what do you think will be the top trending topics at AWS re:Invent? Tweet @trendmicro with #reInvent to let us know your predictions.
Authors