Complete and Connected Cybersecurity for MSPs
Build and deliver scalable managed security services
Explore complete cybersecurity
Harness the power of a connected platform powered by our XGen™ security strategy. Not only do you have central visibility across all security controls, layers, and customers, but you can also improve business efficiency by centralizing key functions, such as license and billing management.

Protection points
Endpoint

Data center and workloads

Email & collaboration

Network
Advanced security techniques
Machine learning

Writing style DNA

Investigation and analytics
MSP Essentials
MSP: What's it all about? Here are the basics of the program and how Trend Micro can help you serve your customers. Plus, take a look at an overview of our complete security solution.  
Hybrid Cloud Security Solution - Server
Deep Security
User Protection - Endpoint
Worry Free Services
User Protection - Email & Collaboration
Hosted Email Security & Cloud App Security

RMM/PSA integrations
Our MSP solutions integrate with the tools you are already using to run your business
IDC Partner Assessment Tool
What do you need to be a profitable and growing MSP?
You have a vision for your business. But how do you get there from where you are now? Answer these quick-fire questions to receive a personalized assessment.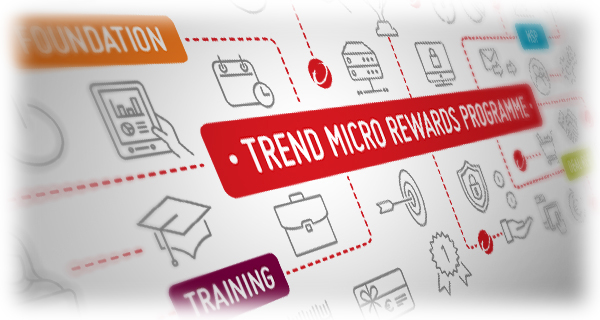 Join the TrendMicro Rewards Programme
Get rewarded while you grow your business. Our rewards program lets you earn points to use toward future purchases when you take advantage of special sales incentives and training courses that help you better identify and develop opportunities in the small- to medium-sized business segment. 

Question 1: What percentage of partners is currently or considering building a "Customer for Life" program?
Answer: 71 percent
Create a "Customer for Life" programs that retain and renew recurring-revenue services, which affects how you go to market.
Question 2: What percentage of B2B technology buyers only contact a sales person after reading researching online and making a decision to purchase?
Answer: 65 percent
Get your digital marketing strategy, experience, and presence right with digital methods that meet your customers' expectations of a good digital experience.
Question 3: How many partners currently offer managed services?
Answer: 46 percent; 33 percent plan on it in 2018
Serve the growing number of customers who seek managed services to help them improve their operational efficiencies.
Question 4: How much faster is MSP growing in Western Europe compared to general IT outsourcing?
Answer: 9X
Be a part of the growing boom of Managed Service Providers.
Question 5: How quickly are European security revenues expected to grow by 2021, compared with other software?
Answer: Security to see a 7.8 percent growth with just 5.8 percent for other software
Join this high-growth market to help your customers secure the enterprise.