Risk Management
From risk to resilience: the tour lands in London
What is cybersecurity? Viewed in simple terms, it's about protecting IT systems and assets from unauthorised access and attack.
---
What is cybersecurity? Viewed in simple terms, it's about protecting IT systems and assets from unauthorised access and attack. But in reality, it's about much more than this. Fundamentally it's about minimising business risk. With IT and digital now the engine room of every organisation, this has profound implications for long-term success and growth. The problem is that, for an industry worth an estimated $150bn globally, success stories are relatively hard to come by. That's why Trend Micro has been taking to the road this year, to tell its own story.
As attendees heard at the event in London, the path from risk to resilience may be long and winding. But it's an essential journey for any growth-oriented organisation.
The journey starts here
Risk to Resilience is the world's largest and most ambitious cybersecurity roadshow. From Ho Chi Minh to Bogota and Dubai to Detroit, Trend Micro experts have been joined by customers, partners and thought leaders to share their expertise on how to make a success of cyber risk management. But London was always going to be an important date in our diary. For the Trenders based just down the road in Trend Micro UK & Ireland HQ, this was the home game we'd been waiting for.
After a small media breakfast roundtable early on in the day, we progressed to the event proper—held in the superb surroundings of the iconic Gherkin building in the City. After a brief introduction from me, we heard from:
Jenny Radcliffe, "The People Hacker", who warned attendees about the evolving social engineering threat to organisations, and shared strategies for identifying and mitigating hidden risks
Bharat Mistry, Trend UK&I Technical Director, who explored the evolution of the threat landscape and the mindset shift required by customers to develop an effective security strategy in the face of continued business uncertainty
Simon Walsh, Trend Cybersecurity Architect, who explained how the Trend Vision One platform can help organisations proactively discover, prioritise, and remediate risk across the entire corporate attack surface
Lewis Duke, Trend SecOps and Threat Intelligence Lead, who zeroed in on the value that the Security Operations Centre (SOC) can play in risk management. He shared some really useful best practices on how XDR can help teams to detect, investigate and respond to advanced threats quickly and efficiently
Kate Emery-James, Trend Sales Director, who led a fascinating panel discussion designed to share tips and strategies for tackling the evolving threat landscape. Panellists included: Prince's Trust CTO, Julia Beaumont; TfL CISO Jules Gascoigne; O2 Head of Security Architecture, Paul Erskine; and Pets at Home CISO, Ian Colcomb
David Sancho, Trend Senior Threat Researcher, who explained how organisations can adapt to increased cyber risk amidst an attack surface that is constantly expanding
David Humphries, Detective Constable in the City of London Police's Cyber Crime Unit, who took the audience on a journey through a real-life spear-phishing attack and how police investigated it
Ben Gallagher, Veteran, Athlete and Explorer, who shared how—with the right mindset—we can use experiences of trauma and adversity to help to build resilience for the future
A fascinating day was capped off with networking drinks and dinner at the top of the Gherkin, with 360-degree views across one of the world's greatest capital cities.
Cyber means business
We're tremendously grateful to all our speakers, everyone who came to hear them, and all those unsung heroes who made the event such a success. It was fantastic to see some familiar faces, and meet so many new ones. The conversations we had were wide ranging and incredibly rewarding, not just from a commercial perspective but in understanding more about the day-to-day security challenges facing our customers, partners and prospects.
We've still got roadshow events to go in Leeds, Lisbon and locations throughout MEA region. But after visiting nearly 120 cities, one thing is self-evident. We live in a world today characterised by uncertainty and risk at every turn. Finding the right partners, and managing that risk to drive long-term cyber resilience, is critical to the success of any organisation. In short, cybersecurity means business.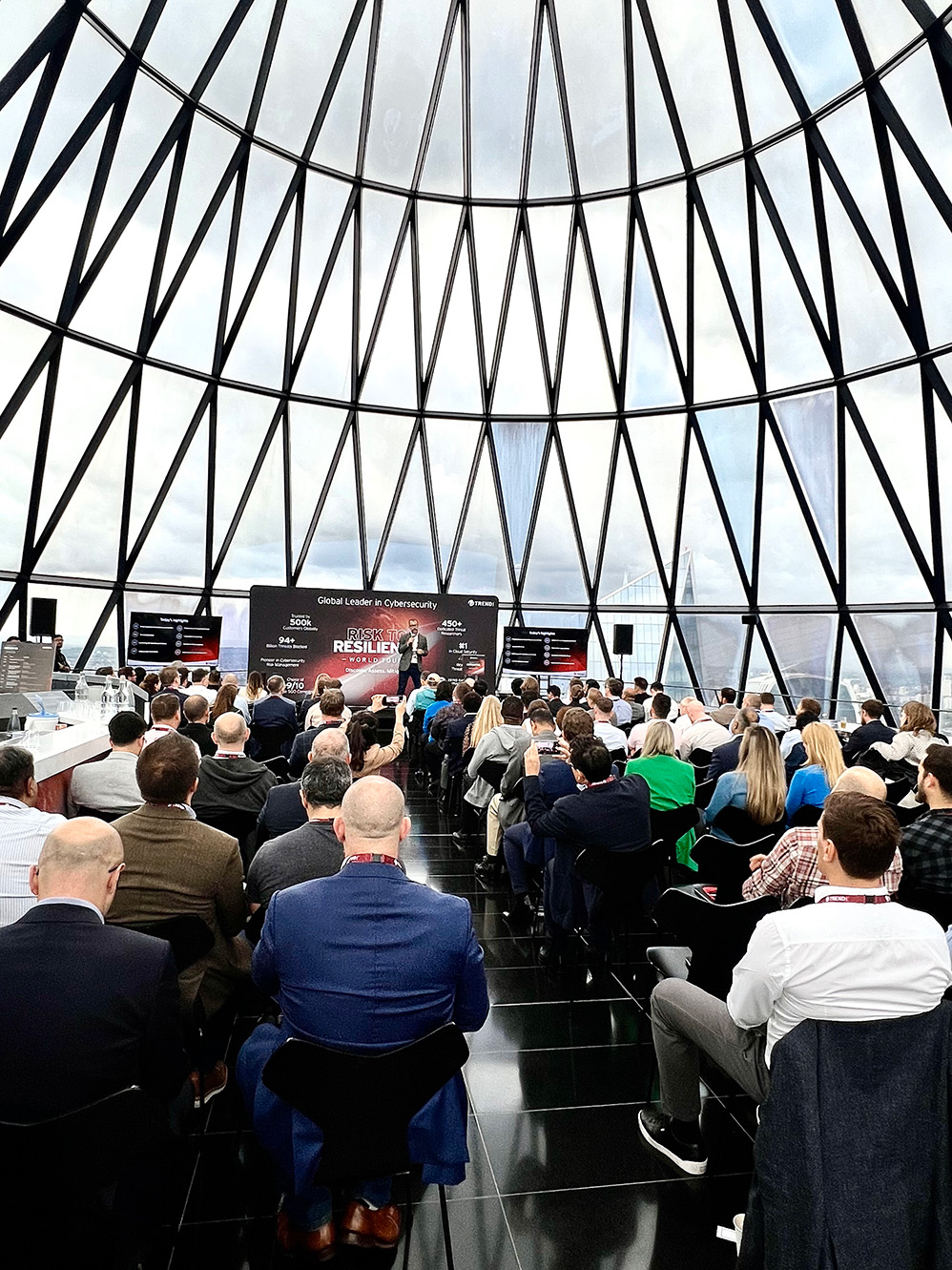 Authors