HouseCall for Home IoT Devices
Are your home network and connected devices secure?
What It Does
Beyond the traditional PC, there is an increasing number of smart home devices connected to home networks, including IP Cameras, TVs, NAS (network storage) units, smartphones, tablets, and printers. Many devices have security issues which could be used to take control of your devices or network and leak your private data. One common example is using the factory default password on your device which makes it easy to control it and put your data and privacy at risk.
HouseCall for Home IoT Devices scans all your home network devices to identify potential risks and offer advice on how to eliminate them.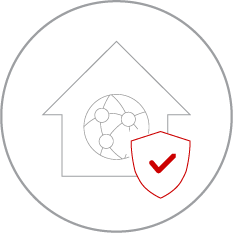 Use HouseCall for Home IoT Devices to:
 Scan your devices for security risks

 Protect your privacy and data
System requirements
Hardware

Intel™ Pentium™ or compatible processor

256MB of RAM (512MB recommended)


At least 50MB available disk space

Operating System

Microsoft Windows 7

Microsoft Windows 8.x

Microsoft Windows 10
Terms & Conditions
These free antivirus services are provided on an "AS IS" basis. Trend Micro reserves the right to change the terms of this free antivirus site offerings without advance notice. Trend Micro also reserves the right to refuse service to any Web site at its sole discretion. For more information, please see our legal notice.