Scams are fraudulent schemes designed to steal money or information. 
Recently, with the rising popularity of mobile phones and the increasing number of internet users, scam methods have been getting more sophisticated and varied. 
To avoid scams, it's necessary to know how they work.
Phishing Scams
Posing as real companies or organizations, scammers create fake websites designed to steal your credit card information, social security number, passwords, and other personal data.
Text Message Scams
Appearing as legitimate texts from well-known companies, these messages contain links that will install malicious apps or lead to phishing sites.
Phone Scams
Scammers use clever social engineering tactics to get people to share their personal information over the phone, which they then use to commit identity theft.
Online Shopping Scams
Scammers create shopping sites with irresistible discounts to lure people in. However, nobody ever receives the items they ordered and certainly no refunds are issued.
Email Scams
Disguised as legitimate emails, these often look highly convincing ­– like they're from your bank or a video streaming website, but all the scammers want is for you to click the phishing link or open the malicious attachment.
Investment & Crypto Scams
These scams use celebrity endorsements and promises of risk-free returns to trick people into downloading harmful apps and entering their information on unfamiliar websites.
How You Can Avoid Scams with Trend Micro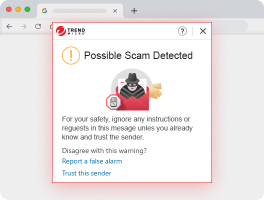 Supporting Gmail and Outlook, our proprietary email scanner with built-in AI technology can easily identify spam and phishing emails. No matter how scammers disguise their emails, they can't fool us.
Install Maximum Security to shield your email from scams: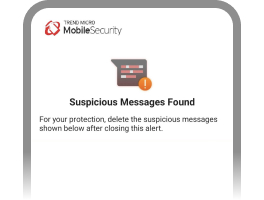 Filter dangerous messages in real-time by cross-checking their content, links, and the phone number of the sender.
Protect your mobile devices with Mobile Security: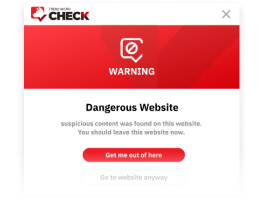 Verify the legitimacy of links and websites against the largest scam database in the world. Guarantee that you never visit fake sites and the scammers can never get their hands on your personal information.
Install Trend Micro Check on your browsers to detect scams for free:
Partnered with Industry Leaders
Trend Micro has formed strategic alliances with global industry leaders, allowing us to create the world's most comprehensive scam and fraudulent website information database.
Detect Fraudulent Sites and Content with AI
Trend Micro analyzes all aspects of websites, emails, and messages to give you the best protection against fraud and scams.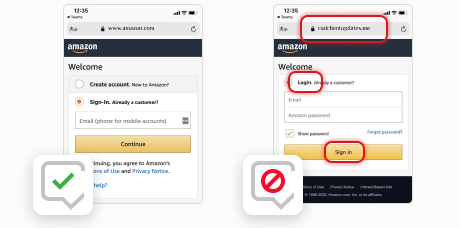 No. 1 In AV-Comparatives' Testing
Proven to detect and block up to 95% of phishing sites.