Only a few decades ago, logic in the devices and systems we used was implemented as mechanical actuators. If a train needed to be told to stop, a person would pull a lever to switch the signal to 'danger' (meaning stop) via cables or rods. If a train that was too high headed into a tunnel that didn't have enough clearance, it would smash a tube of mercury that would interrupt the flow of electricity to that track. (This can still be seen on the Northern Line in London.) The logic was relatively easy to understand and verify.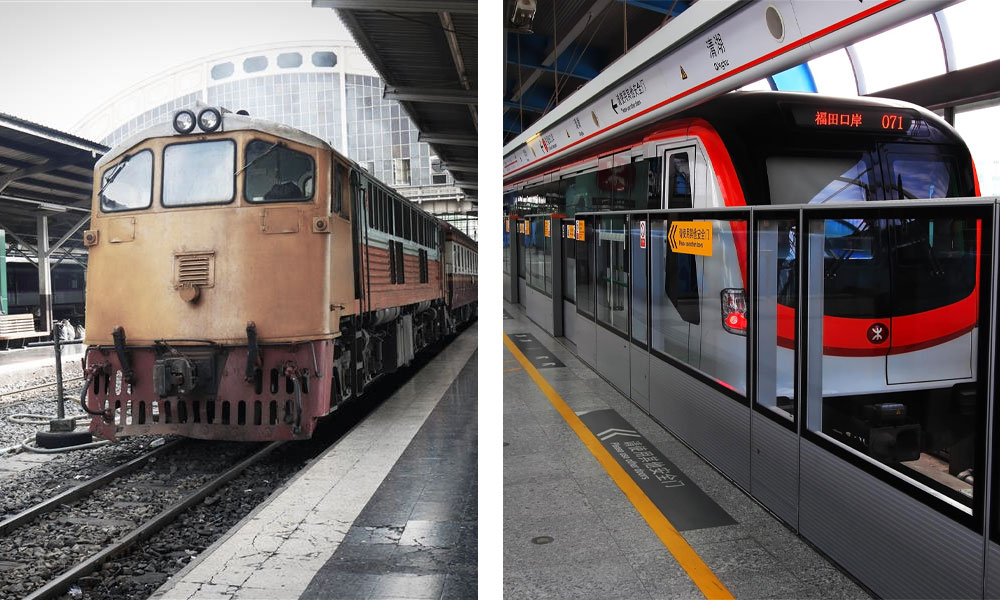 More recent systems used electromechanical components to manage the complexity of growing systems. Discrete logic circuits were used to handle more complex situations. If relays were used, the click that they made confirmed to the operator that their actions were executed. The logic could be verified with some persistence.
Now, the use of mechanical or electromechanical logic is rare. The demand for better performance and efficiency has led to the need for much more complex logic. And to implement the logic of these mission critical systems, manufacturers turn to microprocessors. These provide much more flexibility and can be reprogrammed much easier than discrete logic ever could.
We are now at the point where we own devices that each contain many microprocessors. A typical smartphone will have at least one processor for the radio part and another for the computer part. But many of the sub-components in the phone are also driven by very small microprocessors. A modern PC contains microprocessors in places like the memory or disk storage.
The continuous evolution and widespread adoption of sophisticated software is helping many industries become more efficient and productive. It allows users and enterprises to connect, create, and achieve more than what was previously possible — so why is this a problem?


The consequences of so much software
We have come a long way from the simple logic that a mechanical device uses. We have reprogrammability across different levels of a complex system, from the components on a device's board and its microprocessor to on-premise and cloud systems. This has undeniably resulted in increased efficiency and productivity that could not have otherwise been achieved. But, with the pros come the cons:
There is really no way to verify that the logic in modern systems is safe and sound. Moreover, when something goes wrong, it's often unexplainable as the complexity of the system defies analysis.
Consumers have become used to automatic updates and now expect better functionality over time, but these can lead to disruption and interoperability issues — as software is deeply embedded in enterprise operations, a mismanaged update can cause significant problems.
The increase in software also means an increase in the attack surface that an enterprise or user has to deal with. Unfortunately, some may lack both the visibility into these components and the tools with which to monitor and protect them.
Implementing functionality in software also opens the door to users who just want to modify the functionality of the devices they own. Through published discourse, information on the inner-workings of these systems become known, not only to the owners, but also to malicious actors.
How do we deal with these issues?
In our everyday lives, we rely on technology — software — that is not very secure or even completely mature. Security researchers are constantly finding a considerable number of vulnerabilities. And vendors will often ship the beta version of a product knowing they can update it once it's in the field. Instead of rigorous testing and then sealing off a device against further manipulation, we have embraced the model of continuous updates; unfortunately, a device that can be updated can also be modified for malicious purposes as well.
With all this in mind, having a proper defense is essential for those who use and are reliant on software — managing updates and proper patching are good first steps, and multi-layered security is also a must. 
The way forward is complex since software is deeply integrated in users' lives and enterprise operations. With critical systems, reliance on software is not a good idea. A device should always be designed in a fail-safe mode so that the failure of the software will revert the device into a safe, if inefficient or less comfortable, mode of operation. In other words, it should be possible to operate a machine or vehicle safely, even if the software totally fails.
Although it would equate to additional costs for the manufacturer — and the end-user — redundancy measures for critical systems should be standard. When there is a serious fault, the default mode should be safe; and if it can't be secured through mechanical means, then more software redundancies have to be put into place.
Professionals should get used to the software-defined-everything model — as industries adopt more software into their workflow, the workers' knowledge base has to grow as well. Along with keeping up with operations, having a full understanding of the software systems will help in securing and protecting them.
HIDE
Like it? Add this infographic to your site:
1. Click on the box below. 2. Press Ctrl+A to select all. 3. Press Ctrl+C to copy. 4. Paste the code into your page (Ctrl+V).
Image will appear the same size as you see above.