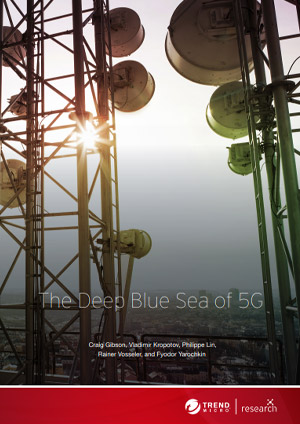 View The Deep Blue Sea of 5G
Much of the anticipation over 5G comes not only from its being a technological development itself, but also from what other technologies it will enable. The latest generation of cellular mobile communications comes as an answer to demands brought about by the fast growth of digital technology. The inconsistent speeds of 4G and older networks experienced today are a symptom of how congested the connection has become. But they nonetheless highlight a need for broadband networks that not only are faster but also are capable of providing consistent connectivity to a significantly larger number of devices — especially in light of the continuing expansion of the internet of things (IoT). This and other demands can be addressed by 5G.
To reap the prospective advantages, however, is to take a realistic approach in the implementation of 5G. This involves preparing for its dynamic, volatile, and data-driven nature, which may encroach on an enterprise's security and negate the very advancements heralded by 5G.
Cybersecurity and Data Concerns in 5G
One of the first areas of concern in the implementation of 5G is the amount of data collected and how it is interpreted. This in turn creates security concerns, especially in terms of detection. The dawn of 5G might involve reviewing rules applied in filtering out malicious network traffic, as the current rules used might not recognize the subtleties of the highly customized traffic possible with 5G. The addition of more IoT devices could also present attribution difficulties for security statistics that have been used to monitoring only human subscribers — as opposed to machine subscribers, a second subscriber type made up of IoT devices.
The overall cybersecurity strategy adopted by the enterprise through which this data may travel is also crucial in the preparation for 5G. Security must be deployed after careful planning and involve an organized structure that can help prevent attacks and mitigate their effects as well as make room for necessary changes in the future. Having no security architecture can delay the deployment of new technologies like those enabled by 5G.
Aside from the data and security architecture, the shift from hardware-defined to software-defined networks influences the skill set needed to properly operate and secure network processes. An enterprise would need more professionals capable of identifying key concerns for a software-defined network, which involve the same skills necessary for advanced incident response. Current security teams may also need to widen their software coding skills to meet the need for better accuracy in interpreting and profiling data involved in the use of 5G.
Securing the Enterprise
Several security techniques and technologies can help address these concerns, and ease the transition to the use of 5G. For example, the use of a security orchestrator or business-oriented machine learning rules that use security and privacy as functions of revenue and operating expense can help address the decreasing performance of a security architecture coming from poor detection. Using 5G machine learning can also help generate a new baseline that would in turn identify what would be acceptable network traffic, and help reduce pressure on security personnel or experts in the enterprise.
The concerns highlighted here suggest that although 5G is highly anticipated for its potential to tackle various technological demands, certain technologies and skills are required for the realization of that potential. Security, in particular, plays a critical role in enabling new advancements like 5G, as it works toward protecting the value and innovation they bring.

We cover in detail the possible enterprise effects of 5G in our paper "The Deep Blue Sea of 5G."
HIDE
Like it? Add this infographic to your site:
1. Click on the box below. 2. Press Ctrl+A to select all. 3. Press Ctrl+C to copy. 4. Paste the code into your page (Ctrl+V).
Image will appear the same size as you see above.