Implementing BYOD: How Lost or Stolen Devices Endanger Companies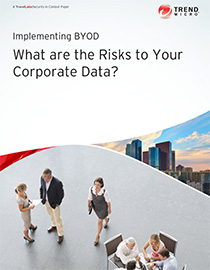 View Primer: Implementing BYOD: What Are the Risks to Your Corporate Data

In the beginning, IT admins of small business and enterprise networks only needed to watch out for threats that attack their computers and servers. Since then, widespread mobile and cloud adoption led to the boom of consumerization in the workplace. As the BYOD trend continues to grow, people are becoming more familiar with apps that can sync, store, and save data in real time. Nifty, aren't they? Cybercriminals and attackers think so as well.

Today, it is common to find company data inside personal devices, either mixed in with random notes or accessible via consumer apps used for work. As such, when employees lose or get their mobile devices stolen, company data is lost as well. Did you know that this data stored in lost or stolen devices are often used to breach company systems? In addition, 46.5% of enterprises that allow employee-owned devices to access their network have experienced data breach.

There are ongoing shifts in the threat landscape, and mobile devices are no exception. Regardless of the fact that these devices have smaller screen sizes and less storage space compared to the more powerful computers of today, the sensitive data stored in them can still put companies at risk.

In this guide, we noted how IT groups may not even be aware of the exact number of mobile devices connecting to their networks. 69% of employees use smartphones for work while their respective IT groups say 34% do so.

Now, more than ever, IT admins need to flex their consumerization strategy to cover security for both company-issued and employee-owned devices. They need to treat everything as a probable attack vector.

While it is true that making corporate data available and accessible to employees can contribute to productivity, this poses risks that can lead to loss. Discover how IT admins can take advantage of mobile device management (MDM) and virtual mobile infrastructure (VMI) to ensure that employees can safely access corporate information. Take the first step in protecting corporate data in mobile devices through our handy guide, "Implementing BYOD: What are the Risks to Your Corporate Data?"

HIDE

Like it? Add this infographic to your site:
1. Click on the box below. 2. Press Ctrl+A to select all. 3. Press Ctrl+C to copy. 4. Paste the code into your page (Ctrl+V).

Image will appear the same size as you see above.