Friday May 5th will see the fourth annual Digital Wellness Day celebrated around the world. This year, the initiative is expected to reach over 15 million people via in-person and online gatherings. The annual event was founded in 2020 by the educational organization, the Digital Wellness Institute. In their own words, Digital Wellness Day aims:
"to provide free, research-based resources to support wellbeing in the digital era […] a time to 'practice a pause' and optimize our relationship with technology in different areas ranging from mental health to productivity, workplace wellbeing, and beyond."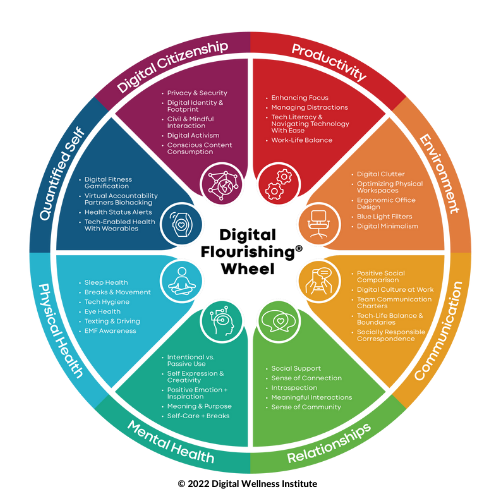 Credit: Digital Wellness Institute
Are You Living Well Online?
Digital wellness is the art of living well, online. In an age governed by digital interconnectivity, it is the pursuit of a healthy relationship with technology, in both our working and personal lives. While children and teens — being the most vulnerable — are often the clear focus in conversations around digital wellness, it is a concept that applies to all, given that almost all are digital citizens in 2023.
The last couple of years have seen an ongoing and overdue conversation about the downsides of digital connectivity and the overuse of phones and social media. We've seen concerns about the exposure of children to harmful content on TikTok and other social media platforms — not to mention, the revelations that Facebook is fully aware of its harmful effects on children.
More recently, we've seen the phenomenon of "sharenting" (parents oversharing the personal lives of their kids) being looked at with a skeptical eye in regards to privacy and consent issues. As for adults, we've seen catastrophic levels of digital overreliance and burnout, for example, phenomena such as "zoom fatigue", excessive pornography use, and increasing rates of loneliness.
Top Tips for Digital Wellness
At Home
When you're not working, try to plan several non-digital activities throughout the week. Consider reading a book, listening to music, the gym, long walks, gardening, or mindfulness techniques such as yoga stretching and mediation.
Make a plan of action within the home, either for yourself or the whole family. What are your needs? And what small steps can you take now to improve your digital wellness? This could involve a ban on phones at the dinner table, or a digital curfew beyond a certain time.
Teach your children about the importance of being good digital citizens. Don't just tell, but lead by example when it comes to right and wrong, dos and don'ts, and healthy habits online. We've another great article on social media safety tips for your children too.
Consciously try to limit your social media and email use in your leisure time. Make use of device settings, such as focus mode and turning off notifications. Instead of messaging online, why not phone a friend or meet up outside? Consider the wonders of a digital detox. For some great activities, head over here.
At Work
Take regular breaks from your screen and devices. Every 15 minutes or so, practice focusing on something non-digital with your eyes. Every 30 minutes, get up and stretch — take a walk around your home or office, and grab a refreshing drink or healthy snack.
Curate your Zoom or other meeting software around your needs. For example, to minimize the mental load of eye contact, it helps to reduce the size of the meeting window. Likewise, it's unnatural to see ourselves talking — consider turning off the self-view option. Finally, give yourself non-verbal breaks by turning off your camera periodically.
At the beginning and end of the day, tidy up your computer for a fresh start: that means clearing tabs, organizing your desktop, and ordering your emails. If working from home, a quick physical clean-up can also work wonders. It's important to curate a healthy space, digital and non-digital.
Reflect on your day as it comes to an end. What went well? What didn't? And what's the plan for tomorrow? Beyond this, set clear boundaries for yourself in digital availability beyond working hours.
Happy Digital Wellness Day!
If you're interested in getting involved with Digital Wellness Day, the Digital Wellness Institute has a dedicated webpage — with a useful FAQ section too. The concerns we covered above bring home the need for an initiative like Digital Wellness Day: a chance to reset, reconvene, and start living well online, whether that's at work, at home, or with the kids.
---
Watch our Managing Family Life Online Webinar episodes:

Lynette Owens
Lynette Owens is Vice President of Global Consumer Education & Marketing at Trend Micro and Founder of the Internet Safety for Kids and Families program. With 25+ years in the tech industry, Lynette speaks and blogs regularly on how to help kids become great digital citizens. She works with communities and 1:1 school districts across the U.S. and around the world to support online safety, digital and media literacy and digital citizenship education. She is a board member of the National Association for Media Literacy Education, an advisory committee member of the Digital Wellness Lab, and serves on the advisory boards of INHOPE and U.S. Safer Internet Day.
Follow her on Twitter @lynettetowens.