Home Network Security SDK
Digital life partner for protecting and managing the connected home
Home network visibility, management intelligence, and protection
The number of home devices that connect to the internet of things (IoT) continues to increase and diversify at a rapid pace, going far beyond computers, mobile phones, and tablets. Threats to IoT devices have also gone mainstream, ushering in an era of new attacks on smart devices for consumers as well as businesses and industries. The Mirai botnet, which emerged in 2016, is a key example: It lets malicious actors launch massive and widespread attacks by taking advantage of vulnerable IoT devices found on many home networks, including routers, digital video cameras, and digital printers. With the scale of home networks becoming exceedingly similar to that of small office networks, management and security across devices have become more important than ever, especially for oft-overlooked routers.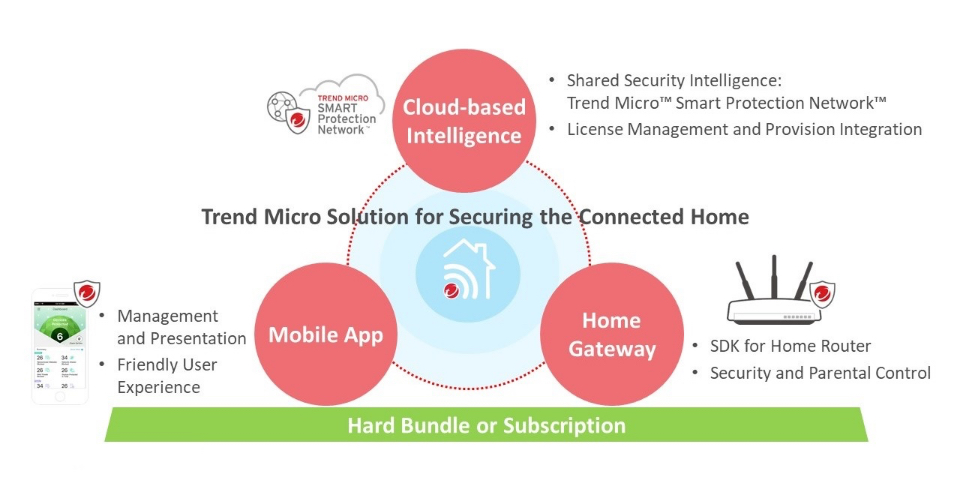 Trend Micro™ Home Network Security SDK (HNS) is an integrated suite of digital life protection services that provides home network visibility, management intelligence, and protection capabilities. HNS's enterprise-grade intrusion prevention technology and cloud intelligence could protect the entire home network against cyberattacks and offers visibility into smart device security status including threats, vulnerabilities, and suspicious behavior.
For parents, HNS provides profile-based management with inappropriate-app and web detection, screen time limits, and content restriction both in the home and on the go. An easy-to-use smartphone app lets the home IT manager make changes anywhere and stay aware with timely and insightful notifications about important security events in the home network, while the mobile app SDK allows for integration within the customer's existing app. HNS has been widely adopted by leading telco and home router vendors for deployment in more than 4 million households worldwide and to protect more than 27 million devices daily.
Network usage and visibility

Network security


Malicious website filtering

IoT device reputation and blocking

Network attack prevention

Anomaly behavior blocking

Vulnerability scan

Remote access protection
 
Parental control

Profile-based management

Website filtering/URL allowlist and denylist

Inappropriate-app detection

Internet time limit / Pause Internet and YouTube

Content restriction

Connection alert/Kids back home

Monitor and control outside of the home

License management
Explore Other Connected Consumer Security Products and Services
Connected Consumer Security
SaaS Platform for operators to enable consumer cybersecurity business efficiently
Virtual Network Function Suite
Monitors traffic, detect threats, and takes countermeasures by applying the appropriate network security protocols for connected cars.