THREAT SUBTYPE:
Information Stealer


Threat Type: Trojan

Destructiveness: No

Encrypted:

In the wild: Yes
This is the detection for the malicious app dubbed as "InstaCare" that steals user's Instagram account information.
To get a one-glance comprehensive view of the behavior of this Trojan, refer to the Threat Diagram shown below.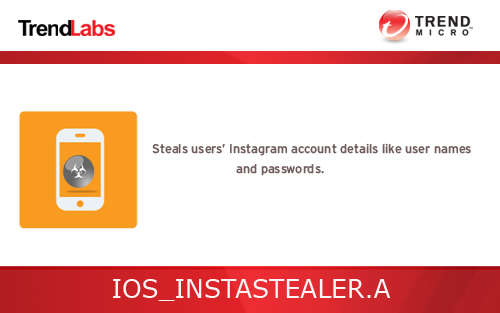 File Size:
8,862,954 bytes
Initial Samples Received Date:
25 Mar 2016
Payload:
Steals information
Mobile Malware Routine
This Trojan also steals the following information from the affected device:
NOTES:

This malware gets the user's Instagram's user name and password and leak to server.
Minimum Scan Engine:
9.800
Trend Micro Mobile Security Solution
Trend Micro Mobile Security Personal Edition protects Android and iOS smartphones and tablets from malicious and Trojanized applications. It blocks access to malicious websites, increase device performance, and protects your mobile data. You may download the Trend Micro Mobile Security apps from the following sites:
Did this description help? Tell us how we did.