PLATFORM:
Windows 98, ME, NT, 2000, XP, Server 2003


Threat Type: Trojan

Destructiveness: No

Encrypted: No

In the wild: Yes
This Trojan has received attention from independent media sources and/or other security firms.
To get a one-glance comprehensive view of the behavior of this Trojan, refer to the Threat Diagram shown below.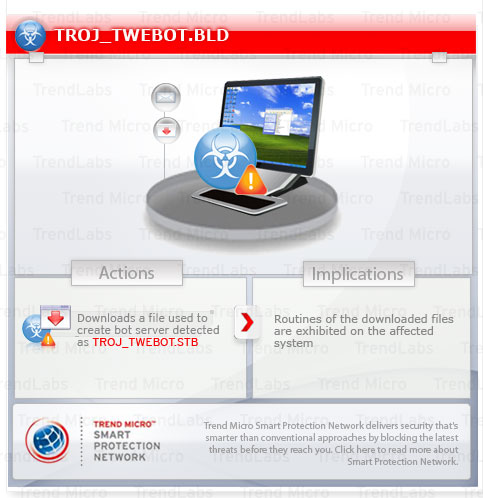 This Trojan may be downloaded intentionally by a user from the Internet. It is used to create a Twitter bot server from STUB.EXE, second of the two bot builder's components. It requires this file's existence in order to run properly. The first component, TwitterNETBuilder.exe, is also detected by Trend Micro as TROJ_TWEBOT.BLD.
When executed, it displays a graphical user interface (GUI) window where the user can enter a Twitter user name. Clicking the "Build" button in the interface creates the bot server file, TwitterNet.exe, which can then be sent to target victims.
Trend Micro detects the aforementioned files as TROJ_TWEBOT.STB.
Initial Samples Received Date:
13 May 2010
Payload:
Turns system into a proxy server
Other Details
Based on analysis of the codes, it has the following capabilities:
Uses STUB.EXE to create a TwitterBot Server. Trend Micro detects both the executable file and the created bot as TROJ_TWEBOT.STB.
It displays a pop-up window with the following message:
Minimum Scan Engine:
8.900
VSAPI OPR PATTERN File:
7.167.00
VSAPI OPR PATTERN Date:
14 May 2010
Step 1
For Windows XP and Windows Server 2003 users, before doing any scans, please make sure you disable System Restore to allow full scanning of your computer.
Step 2
Remove malware files dropped/downloaded by TROJ_TWEBOT.BLD
Step 3
Scan your computer with your Trend Micro product to delete files detected as TROJ_TWEBOT.BLD . If the detected files have already been cleaned, deleted, or quarantined by your Trend Micro product, no further step is required. You may opt to simply delete the quarantined files. Please check this Knowledge Base page for more information.
Did this description help? Tell us how we did.