Fake US Chamber of Commerce Email Comes With Malware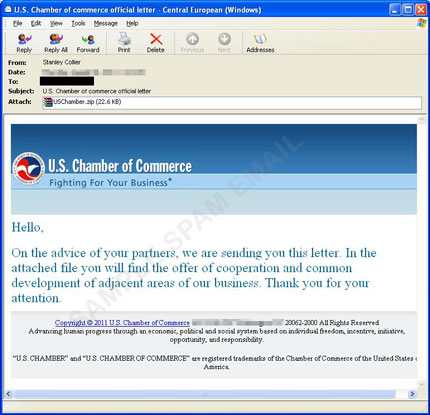 Trend Micro researchers received a spammed email passing itself off as an official missive from the United States Chamber of Commerce. It urges the reader to access the zipped file attachment in order to receive important information regarding a business offer with the Chamber of Commerce. However, the attachment USChamber.exe is not what the message purports itself as. Instead, it is malware detected by Trend Micro as TROJ_JORIK.SMID.
The sender used the domain uschamber.com to send the spammed email to the recipients, making the message appear more "legitimate." Users are advised to always exhibit caution and vigilance whenever opening emails with attachments, even if they appear to come from legitimate sources.
SPAM BLOCKING DATE / TIME:
October 04, 2011 GMT-8